Brady: Building community to maintain readers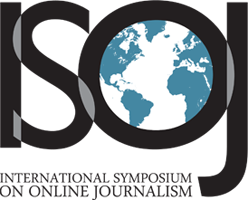 In the battle for millions of "fickle readers," news Web sites that engage readers and allow them to interact more with journalists and each other will prosper, Jim Brady said April 4 during the ninth annual International Symposium on Online Journalism at the University of Texas at Austin.
Brady, vice president and executive editor of washingtonpost.com, said his site launched its first blog in 2005 and now features 70 blogs. He and his fellow journalists learned first-hand the amount of effort and time involved in maintaining blogs, but he said this new type of interaction helps the site build a strong community.
Along with blogs, washingtonpost.com has added multiple elements to open the flow of communication between journalists and readers. Live discussions and applets embedded on pages are examples of how online journalists are reaching out to the audience to keep them coming back again and again to the same news site — hoping they will be "parked" as opposed to "drive-by" readers, he said.
"We're experimenting with all these different ways where we can expand with the shared experience," Brady said.
Panels with experts answering questions directly on the Web site are another experiment in engaging communities. Panels bring together experts, hosts and readers in a live discussion.
"We wanted to do this because we felt like we could bring other voices onto the site," Brady said.
Not only is there interaction with readers, but users are also becoming part of the content. The Web site now allows spaces for them to create profiles where any comments and posts users make, as well as photos they upload, are stored. Brady said this area will be updated when the Web site is redesigned later in the year.
"We're going to keep pushing into areas like this, because they have been a very, very successful thing for us," he said.
ISOJ 2008: Engaging Communities, from Knight Center on Vimeo.