For the second time in its 22-year history, the International Symposium on Online Journalism will be online only in 2021. ISOJ Online will be held during the week of April 26 to 30, 2021. Instead of two full days, as we have had with the in-person conference in Austin, last year we scheduled ISOJ Online throughout chunks of time, from Monday to Friday. That formula worked very well. We broke records and reached thousands of people in 134 countries in 2020, so we decided to repeat it in 2021.
Learn more about the Speakers who will present and lead workshops at the 22nd ISOJ. We are still working on putting together another amazing Program for this year, so come back to our site for updates and follow us on Twitter, Facebook and LinkedIn. If you want to receive updates via email, please subscribe to the ISOJ Newsletter. 
Since 1999, journalists, media executives and scholars from around the world have had an annual meeting in Austin, Texas to discuss the impact of the digital revolution on  journalism. The International Symposium on Online Journalism is a program of the Knight Center for Journalism in the Americas at the University of Texas at Austin, a unique conference that bridges the gap between academia and the news industry.
This website is equally unique. It's an historic, one-of-a-kind, year-by-year repository of testimonials of the evolution of online journalism in the United States and the world. Here you can find content from every symposium since 1999, including transcripts, videos, slides and research papers.
News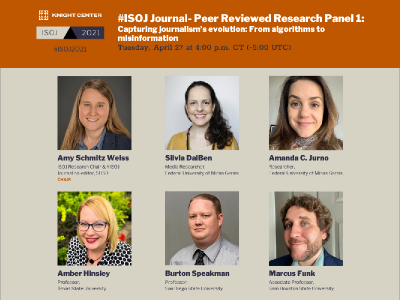 Since 2011, the International Symposium of Online Journalism has produced a peer-reviewed journal, #ISOJ. This year, we'll showcase research from the 2021 #ISOJ journal during two panel discussions taking place on April 27 and April 30. ISOJ is one of the only journalism conferences in the nation that presents a research journal as part of … Read More