Catching Up With Patch.com's Warren Webster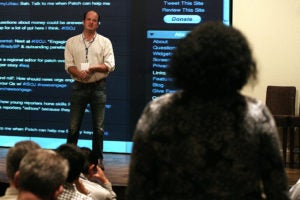 Warren Webster, president of Patch Media, spoke on the rise of hyperlocal Patch.com Saturday afternoon during the 12th International Symposium on Online Journalism.
"To point to Vivian Schiller's point 'Is this real journalism?' We say yes," Webster said, adding that local editors had an average nine-year background in journalism.
Patch began on the east coast in Feb. 2009 and now extends throughout the U.S. with 800 sites, finding apparent stability in the midst of failed hyperlocal websites such as Backfence.com and Loudoun Extra.
"When people ask, 'What do you differently?' We maintain the mentality of a mainstream business embedded in the community," Webster said. Staff members volunteer under the organization's Give 5, which donates free advertising space to local charities and recruits volunteers.
Other initiatives include PatchU, supplying college internships and freelance work and the Patch.org Foundation aimed at cultivating funds to launch sites in under served areas.
Sites are chosen by algorithms that rank factors such as a city's public high school ranking, income level, voter turn out rate, and number of kids in household.
The organization judges its success on 10 million unique monthly visitors to the site, a number that likely won't not be affected by AOL's acquisition of The Huffington Post, Webster said.
"This is an exciting time in our industry," Webster said. "We love working with journalism schools and people studying the issues shaping the future of journalism."
ISOJ 2011: Warren Webster Keynote, from Knight Center on Vimeo.