Changing the mindset of journalists towards a product-oriented newsroom can open new revenue streams for journalism, panel says
Many newsrooms struggle for survival in a very adverse business environment. Still, news organizations are tasked with the challenge of shaping their editorial content into products that make sense for their audiences.
"In a perfect world, you would commit time, people and money, you would have a whole innovation group or an R&D [research and development] group that you would set aside and they would have money and time and people. And you'd be able to, you know, innovate, which leads to a product,"  said Deb Adeogba, senior media experience manager at Microsoft News, during the panel Product Management: How news organizations can become more audience-oriented, data-driven and product-focused at the International Symposium of Online Journalism (ISOJ). 
But as Adeogba knows, this is not the case for most newsrooms, that can't afford to have developers on the payroll or to hire a development company. "I've worked in many newsrooms that had no money, it's happened to me a lot [but] there's a lot of free stuff out there. There's a lot of free stuff out there that you can use," she said.
Adeogba's current role is working with newsrooms to assist them in developing product solutions, but she has worked for several news organizations throughout her career. 
According to her, having no money could be a starting point for developing a product culture within a newsroom. Since that, at the end of the day, media products have the potential to bring in more resources to media organizations, piloting a product with free resources is a way of proving the concept and strengthening the case in your newsroom.
"If you want to create a product culture and there's no money in the budget for it, you start by showing that you can do these things with free stuff, and then they're like well maybe we should put a little bit of money into this and that's kind of how it starts to move forward," Adeogba said during the panel's Q&A segment.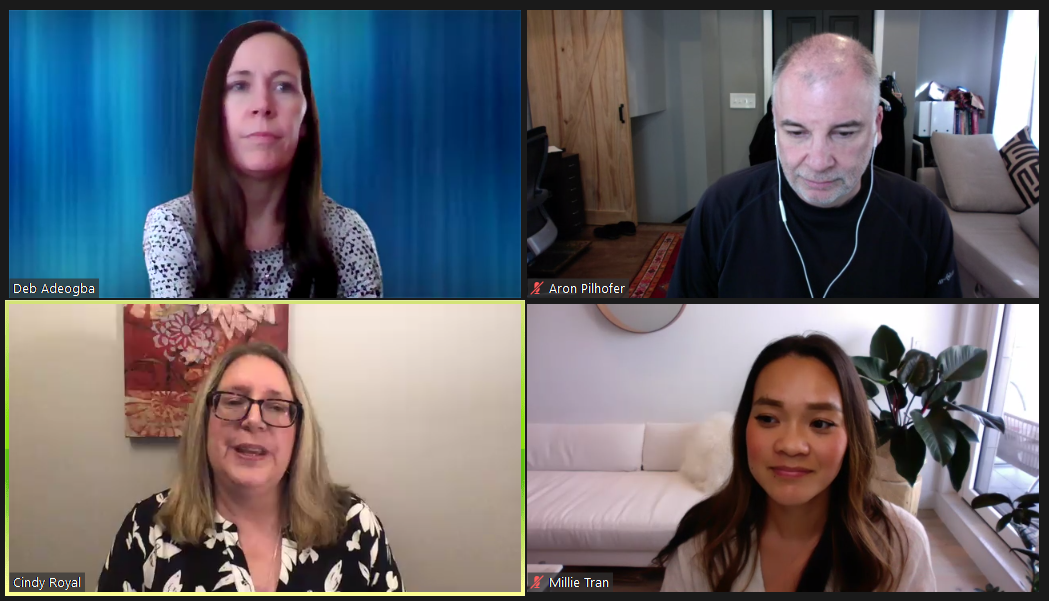 Teaching about media products is what Aron Pilhofer does as James B. Steele Chair in Journalism Innovation at Temple University. He's also the director of News Catalyst, an enterprise that helps news organizations transform themselves into sustainable digital businesses.
"The problem is that news organizations, — particularly legacy ones, but not just limited to legacy ones — are incredibly siloed," Pillhofer said. "Some of the things that we're trying to do are to help news organizations align the strategies that they have in place with the right tools and this is surprisingly incredibly hard. There is very little information out there to help news organizations make those decisions."
Pillhofer's approach to media products is developing a framework to help identify problems media organizations have, either editorial, technological, or business,  and start figuring out what the answer is. His job starts at finding out who is making product decisions.
"The question isn't about people, it's about roles and mindset. And so who is who in the organization is making those sorts of product decisions is the first place to start. Then the next place to start is how do you start to bring them into this world where we can start thinking about making these decisions, more impactfully and systematically toward a strategic goal," he said.
Some news organizations have already seen the value of having a well-defined position of product manager for journalism. At the Texas Tribune, Millie Tran has been hired as chief product officer this year, to lead the audience engineering, data design, marketing and comms, and loyalty teams.
"I'm a systems thinker, and it's really about understanding the whole system. It's impossible to kind of go deep on everything all the time, but you can pick your hits and prioritize," Tran said during the session Q&A.
"It does come down to ROI (return on investment), how is this gonna make us money and that's time versus expectations versus money," Adeogba said. "So if you can figure out a way to make it cool allyship or even a champion within your newsroom, but also figure out an ROI, whether its resources or money. I think that's really the way to build up a culture inside the newsroom." 
The session was chaired by Cindy Royal, professor and director of the Media Innovation Lab, Texas State University.