Eyetrack III Shows How People Look at News Web Sites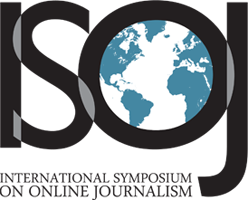 A new stage of a study that tracks the eyes of people using news Web sites will provide important insight into the patterns of online viewership, a senior editor at the Poynter Institute said Saturday.
"With the Eyetrack III we can track the online news consumer's behavior in the age of multimedia," said Steve Outing, a senior editor for the institute and columnist for Editor & Publisher magazine.
Outing gave the audience of the International Symposium on Online Journalism a sneak peak of the results of the Eyetrack III, including a video that showed the track of eye movements of a user on a news Web page.
This research builds upon the findings of a study in 1990, a newspaper-based experiment, and one in 2000, a narrowband online-based experiment, Outing said. Those studies focused on the reader and what they noticed first, something that has continued in the most recent study.
Instead of making the subject wear on his or her head equipment that would track eyes movement, the new study used a fixed camera and eye-calibration technology. The institute was able to track a participant's eye-movement within a centimeter, determining what the reader views and for what duration, Outing said.
"Websites today are far more complicated," he said.
The 2003 experiments used five mock websites to track eye lines. The study also focused on article presentations in multimedia format versus text formats. The 50 participants ages 18-55 were required to take a comprehension test to see which format allowed for greater retention, Outing said.
The institute hopes to present its findings by the end of May and to solicit reactions and opinions from the media, Outing said. Then the institute hopes to embark on a project that will establish what the media need and want online.
Outing said participants could contact him at steve@poynter.org for further updates at the end of May.
 ISOJ 2004: Research on Online Journalism, from Knight Center on Vimeo.