Fighting disinformation, especially surrounding the COVID-19 pandemic, is one of biggest challenges of our lifetimes
While misinformation is not a new concept, the COVID-19 pandemic has created new challenges for journalists to detect, combat and counter false information. We are living in an age in which we are given an overload of information, coined as the 'infodemic' by the United Nations, and correct and factual information is of grave importance when we are dealing with issues that are a matter of life or death.
The fact of the matter is that fighting mis- and disinformation is one of the most important challenges facing journalism today, said Maryn McKenna, journalist, author and senior fellow at Emory University's Center for the Study of Human Health, as she led the first panel discussion of the day at the International Symposium of Online Journalism (ISOJ).
A group of experts came together for a panel discussion on Tuesday April 27, 2021, to discuss the implications and solutions surrounding mis- and disinformation during the COVID-19 pandemic. The panel is entitled, "Facing the 'infodemic:' How journalists covering COVID-19 can fight mis/disinformation." 
Brandy Zadrozny
, a reporter at NBC News, began the discussion with a glimpse into her year as a journalist reporting on health misinformation and combating actors like conspiracy theorists, anti-vaxxers and clout chasers that spread false information about COVID-19 by using fear-mongering and racial stereotypes.
"My mission was to pull back the curtain on the people spreading disinformation and the tactics they used and how the platforms profited from the spread and finally the tolls those lies take on individuals and communities," Zadrozny said.
Jessica Malaty Rivera, science communication lead at The COVID Tracking Project, spoke on the lack of prioritization of science communication and the role she played in helping train folks to be better readers, understanders and consumers of data about COVID-19.
"When you have an outbreak of a pathogen, you can almost certainly guarantee there's going to be an outbreak of bad information," Rivera said. "An infodemic comes hand-in-hand with a pandemic and that has been the case since the beginning of time."
Heidi Larson, director of The Vaccine Confidence Project at the London School of Hygiene & Tropical Medicine, spoke about her work to try to understand what was driving mis- and disinformation rather than just focusing on fact checking in general, especially on a global scale.
"This is not new, but what is new is the scope and scale of misinformation, it's the intent behind it and the motive," Larson said. "I think that's a really important thing to be looking at."
Joan Donovan, research director at the Shorenstein Center on Media, Politics & Public Policy at Harvard University, began her portion of the panel with bringing attention to two trending topics on Twitter, including the CDC reducing guidelines for vaccinated people and Joe Rogan, an infamous misinformation spreader. Donovan stated that the biggest challenge of our time is handling medical misinformation and offered some mitigation tactics to combat misinformation.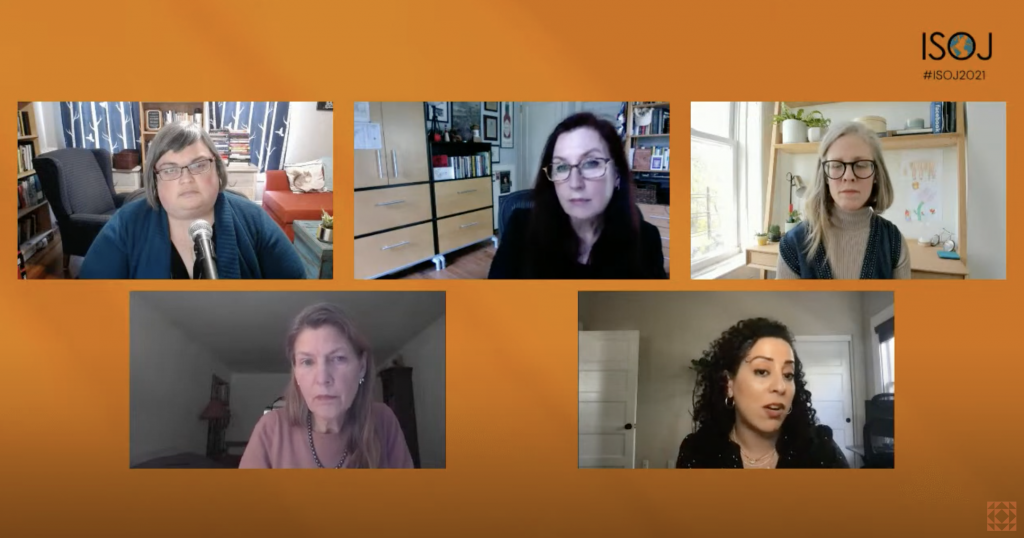 "What we lack isn't necessarily just a plan to counter misinformation. We do not have a coherent strategy for delivering timely, local, relevant and accurate information to the public which is by and large what we need to have, especially as people are trying to figure out how to get the vaccine," Donovan said.
Journalism plays a role in combating and mitigating misinformation, but it is not the only solution and all the panelists agreed that the solutions need to be structural because without structural solutions, change is not possible.
"The fact that people still don't believe that 550,000 people have died of COVID-19 shows us just how much work we have to do to better communicate, better illustrate, and better visualize data and science," Rivera said.
ISOJ continues on Wednesday, April 28, and runs until Friday, April 30. Follow along at isoj.org and on social media with #ISOJ2021. You can watch the panel in English here or in Spanish here.