Going Mobile: Challenges and opportunities for journalists and news organizations in the mobile revolution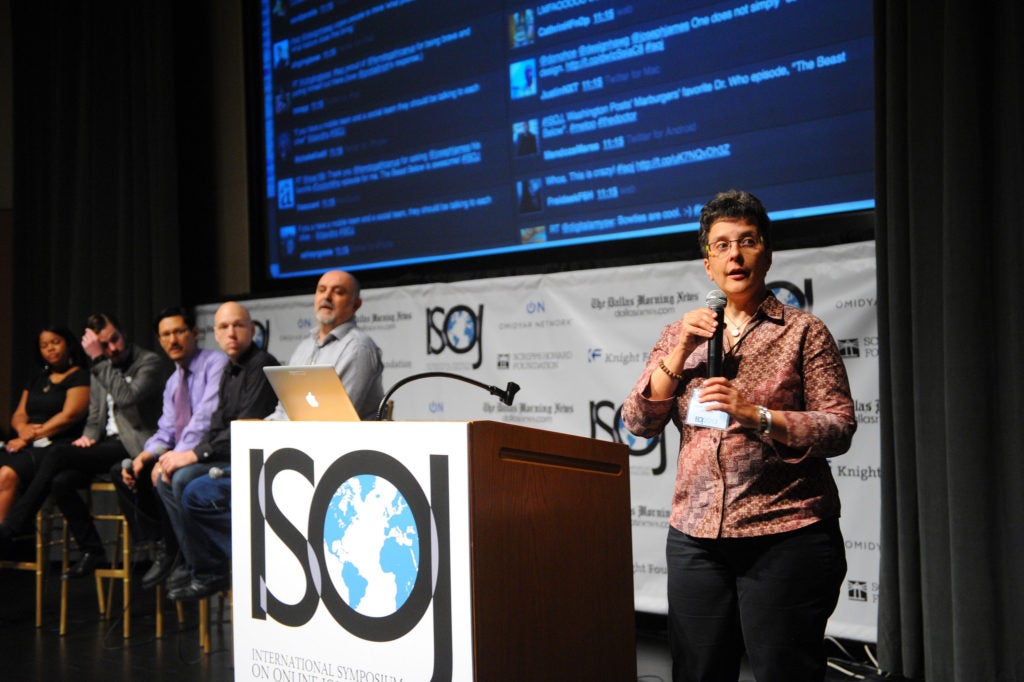 An astute panel of reporters, media gurus and scholars from around the world agreed that although the mobile revolution can be stressful, journalists are pioneering an unchartered territory of storytelling by thinking forward with the use of mobile devices and applications to produce news.
During the second day of the 14th annual International Symposium on Online Journalism at the University of Texas at Austin, each panelist explained their experiences creating a new model of news with respect to updating the old print model and maintaining journalistic principles.
Anxiety rose as Allissa Richardson, a professor of journalism at Bowie State University, asked the crowded auditorium of men and women with their faces buried in their electronic devices, to pass their mobile phones and computers to the person next to them. Richardson used this exercise to demonstrate the strong relationship that modern adults have with their mobile devices. As more adults grow in their affection, attachment and dependence on their mobile devices, news organizations are trying to be innovative in informing and maintaining their audiences.
ISOJ 2013: Allissa Richardson speaks during the "Going Mobile: Challenges and Opportunities for Journalists and News Organizations in the Mobile Revolution" panel, from Knight Center on Vimeo.
Panelist and application developers and designers all stressed the importance of the responsive design to fit the needs and wants of tech-savvy customers.
Chris Courtney, the production manager for the Tribune Company, gave a "lean" presentation emphasizing the importance of failure in the land of mobile technology. He said that failure is important so you can swiftly learn from your mistakes and design a product that your audience wants.
"The number one reason why we fail is that we never understand who we are building things for," Courtney said.
He explained that microsites and prototypes give news organizations the necessary feedback to transform a failed product into a successful one based on customer involvement.
David Ho, editor for mobile, tablets and emerging technology at The Wall Street Journal, explained that news organizations must listen to their customers and resist the urge to annoy their application users with prolific animation and alerts. Ho said that news organizations need to craft a news application through feedback that "sings" with helpful, relevant, and beautiful stories.
"Make it worth people's time," Ho said.
As a mobile designer, Ho explained that "experience" is the key to gaining the audience, "we take the best elements of print and combine it with the power of digital to create an entirely new experience," he said.
Joey Marburger explained that 46 percent of users will not return to an application if they had a bad experience and the application was not easy to navigate. Simplicity is the ultimate guide to designing a mobile application.
"Make it easy for your customer to find what they need," Marburger said.
As technology creates new possibilities for journalist to engage busy audiences, Ivo Burum, executive editor of Burum Media, and Allissa Richardson, professor at Bowie State University, are teaching a new global generation of journalist how to combine Smartphone technology with storytelling. Burum and Richardson travel to indigenous regions to teach aboriginal and under privileged girls how to convey stories with emotions and culture to the global audiences through mobile technology.
ISOJ 2013: "Going Mobile: Challenges and Opportunities for Journalists and News Organizations in the Mobile Revolution"Q&A panel, from Knight Center on Vimeo.