Insider Inc. CEO Henry Blodget moved from experimentation to the evolution of digital media
Watch video of Blodget's keynote speech from ISOJ 2019.
It took years of facing skepticism and relentless experimentation, but Insider Inc. CEO Henry Blodget ultimately took the prospect of digital media and turned it into a multimillion-dollar company.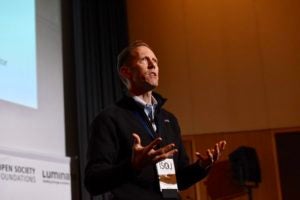 Blodget discussed how he finds success and faces problems in a keynote speech on April 12 at the 20th annual International Symposium on Online Journalism (ISOJ) in Austin, Texas.
When Insider initially launched in 2007 with three people "frantically" typing in a loading dock, Blodget said the idea was to build as large of an audience as possible before their money ran out.
"It gave us the ability to try lots of ideas," Blodget said. "Many of those ideas were boneheaded and they did not work, and we discovered that very quickly. Ultimately, some of them did work, and we kept doubling down on the things that were working."
Blodget laughed through his reminiscence of attempts at video and audience engagement. Throughout the early years of the company, he clung to the idea digital media would evolve the same way print and broadcast media had.
Ultimately, he said they assessed and realized some of the work they were doing mirrored the linear video audiences were already offered by broadcast media.
"The story of the company really in this process is A, terror that if we don't figure out the model over the next year before the money runs out we're going to go bankrupt and B, just constant experimentation, what works in the medium and what does the audience value."
Now the company boasts podcasts, Insider TV, a variety of sections, millions of social media followers, an on-site audience of about 170 million and a global reach.
Blodget pointed out the audience Insider caters to lies between the ages of 15 and 40. He repeatedly brought up how his young daughters respond to Insider content, inspiring him to reach beyond solely business-related material.
Blodget animatedly told a story of how he thought his daughters would light up to know their father tells stories for a living, but instead was met with the response, "But business is boring."
Following the launch of sections like Cheese Insider and Dessert insider, Blodget said, "I became a hero in my household."
He conceded there are two issues the digital industry and journalism in general face. One is the competition between publications in acquiring audience attention. People spend six hours a day consuming media and there is a fight to capture those hours, according to Blodget.
"It is a survival-of-the-fittest, Game of Thrones atmosphere and it will continue for a while."
The second issue is the preservation of local news in the digital age.
Dallas Morning News editor Mike Wilson, who interviewed Blodget on stage, lightheartedly expressed his displeasure Blodget's slideshow presentation ended with a call to fix local news but provided no further instruction.
Blodget said he thinks it will be a combination of advertising and subscribers, but a model of 100% subscriptions to pay for media won't work.
"That sounds nice until you realize that as the consumer, you're going to have 15 subscriptions to different magazines that all cover the same kind of thing. It's not going to work."
Blodget emphatically compared the demand for subscribers to pay for news, to his own consumption of basic goods.
"I don't like paying for clothes when I go to the store, but I do it because, of course I do it. They made this thing and I'm buying it. People might even be grumbling, but they'll do it."
Wilson inquired how Insider produces content dealing with business, but also has lighter material like Cheese Insider and Bonkers Closets, shows Insider posts to Facebook
Blodget countered shows and feature stories for entertainment balance out the hard news consumption, as well as help pay the bills.
"In The New York Times, the Iraq coverage never paid for the newsroom salary . . . nor plane crashes or severed heads, that is not the commercial section."
This commercial section is what advertisers are looking at and want to place their name by, according to Blodget.
Livestreaming of ISOJ in English and Spanish can be found at isoj.org.