#ISOJTimeMachine: Looking back at the future of news during the first ISOJ in 1999
The first ISOJ, back in 1999, was held in a small conference room with about 70 attendees and speakers from the U.S. Now, 20 years later, the annual event regularly attracts 400+ people from dozens of countries around the world.
The 20th ISOJ, which will be held April 12-13, 2019 at the University of Texas at Austin, will bring together professional journalists, media executives, digital news innovators and academic researchers in the U.S. and abroad.
The annual conference serves as a place where professional relationships are made, global media trends are predicted, and creative ideas are shared. Our ISOJ archive offers up a detailed look at some of these trends and ideas — and the ways in which they've shaped the evolution of online journalism over the past two decades.
During ISOJ 1999, we explored whether the search for money was threatening editorial integrity, and how traditional newsrooms were reacting to online journalism. These topics and the conversations they sparked show how much has changed throughout the years — and, in some cases, how much has remained the same.
With that in mind, here's what panelist Douglas Feaver, the first executive editor of washingtonpost.com, said when discussing the future of online news in 1999:
"​Media are going to reshape and reform. It's not going to be, 'we publish a newspaper' anymore. We are going to provide information in whatever form and format people want it…

"Don't say, 'I write newspapers, and that's all I do,' because in a few years you won't. That will be it. … Teach yourself, learn about what you can do. Learn about the new media, plural, and enjoy the ride because it's an interesting one."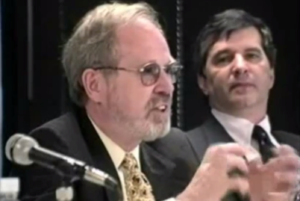 Co-panelist Peter Lewis, a former New York Times columnist, had this to say:
"Newspapers exist in this future, but they are a precious commodity to the elite classes. Only the people who can afford to buy paper and get it physically delivered to their house are going to get it. Everybody else gets their feeds online. I think that there is some truth to that. Papers will continue to exist, but they will be specialty items…

"What is happening with people, the consumers, their attention spans are getting shorter, at least mine is. There are so many choices; I can go here, there, there, there. Journalism is going to have to adapt to that. We are going to have to figure out how to offer a lot of information to a lot of people and that means coming up with alliances. The New York Times will probably will have to align itself with a major TV network with perhaps radio stations, perhaps with others and combine those feeds into some sort of a new media. This is an 'interim medium.' What we are seeing now is just the tip of it.

"Has online journalism come of age? I guess my standard response for that is, I will know it has when Wired declares that their print publication is worthless and that they would have to go completely digital since they have been forecasting the demise of printed publication. But their greatest success still seems to be in the print world… [Online journalism] is just now starting. In fact, I would argue that we are not even out of the starting gate yet."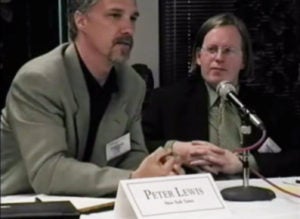 Interestingly, Wired's editor-in-chief Nick Thompson was recently interviewed about why he thinks the print edition of Wired — which reaches 800,000 readers monthly — will continue to be important. Meanwhile, just this week, New York Times publisher A.G. Sulzberger said: "We are moving as fast as we can to get to a future in which we don't need to rely on that newspaper at all. The time will come when this is a digital-only news organization."
You can watch videos and read transcripts from the 1999 symposium here, and peruse the full set of archives here.