Madanmohan Rao discusses media trends in Asia, Africa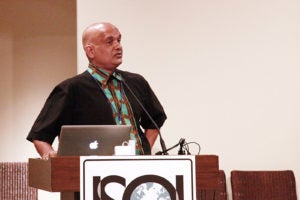 Madanmohan Rao, an influential Indian writer and media consultant, spoke Saturday, day two of ISOJ, on the effects of mobile media and nine other trends in the emerging markets of Asia and Africa.
According to Rao mobile media in the political arena is making headway. From Egypt to India, citizens are advocating for more freedom and using social media and news sites to make their voices heard.
Rao referenced Google CEO Eric Schmidt's speech from the Mobile World Congress in which Schmidt said, "What's most important about the future is that it is for the masses, not the elite."
Those who are galvanizing the masses via mobile media, Rao said, share many of the same characteristics, including youth, socio-political sentiments, residence in an urban setting where new media penetration is high, and the ability to consume and interpret new media.
In lieu of political unrest in many countries, Rao says the question must be asked, "How can news help turn a flock of people into a social movement and then a civil society organization?"
In other words, the goal is not to simply get people together, but instead to get them together to do something worthwhile.
The relationship between media and politics is not a new one, said Rao, who referenced examples from 19th Century politically charged telegraphs to the recent role that SMS played in deposing Philippines dictator Joseph Estrada.
Rao noted some of the other trends in Asia and Africa including disaster news, especially important in wake of the earthquake in Japan where, "Mobile is not just important for spreading news, but for saving lives."
Meanwhile, halfway across the world in Africa, SMS has been used to monitor election results.
Mobile media and the effects that its social components can have led Rao to agree with Twitter CEO Dick Costolo, who said that Twitter, and presumably other social media sites, are helping to, "[reduce] the gap between awareness and engagement."
ISOJ 2011: Madanmohan Rao keynote, from Knight Center on Vimeo.