Managing the Production of Online Journalism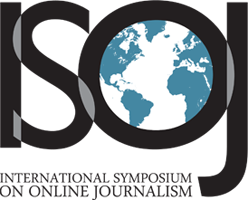 Scholars focused on fine-tuning the production of news Web sites during the second day of the ninth annual International Symposium on Online Journalism at the University of Texas at Austin.
The panel, Managing the Production of Online Journalism, was chaired by Mark Tremayne, assistant professor at UT's School of Journalism.
Arne H. Krumsvik of Oslo University College presented a research paper in which he compared strategies of online news production of CNN and the Norwegian Broadcasting Corporation. He described how in 1995, CNN was still struggling with its online production.
"Every page on cnn.com was made from scratch," he said.
However, the media corporation finally achieved a high standard of news site after the crash of the Internet. Currently it uses a cross-platform approach, in which content is distributed across several mediums.
Krumsvik said both CNN and the Norwegian Broadcasting Corporation, despite differences, have developed defender strategies — which are characterized by "narrow product-margin domains," and aim to improve the efficiency of the operations they already own.
George Sylvie, a UT associate professor, spoke about developing an online newspaper business model. He said in order to improve, organizations need to deliver convenience, comprehensiveness and timeliness — not a niche. One of the challenges of developing the business model is organization, in terms of conducting local research and development, outsourcing and the creation of search interfaces on local news sites.
Neil Thurman and Ben Lupton from City University in London described the struggle of British news Web sites to incorporate multimedia elements onto their sites. In 2007, British news sites started to put emphasis on their multimedia content. You Tube and Google video have more than 30 percent of the UK's online market, according to their research.
Thurman and Lupton said the BBC admitted in interviews that they did not handle the production of online news well; cutting up stories and pasting them straight onto the Web. However, they have advanced and now use iPlayer, which features longer, downloadable videos and attracts 1.3 million unique visitors a week. Pete Clifton, head of BBC News Interactive, told Thurman and Lupton in an interview that while the BBC may have less video online than they have in the past, it plans to focus on producing the "right type of video."
ISOJ 2008: Managing the Production of Online Journalism, from Knight Center on Vimeo.