Research examines portrayal of U.S. in Arab media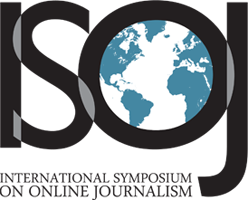 Rosental Alves wasn't kidding when he said this was truly an international symposium: After spending almost two days on an airplane, Ashraf Galal arrived in Austin from Doha, Qatar, to share research on the U.S. image in Arab online journalism.
"This is my first visit to Austin and I'm very impressed with the system of the city and the warm courtesy of the organizers," Galal said. "Rosental and others took the time to welcome me."
Galal, and Mahmoud Galander, both professors at Qatar University, along with Phil Auter of the University of Louisiana- Lafayette, published research through a global media partnership linking the two universities during the 9th International Symposium on Online Journalism.
"I am here because of our research on the U.S. image in the Arab world," Galal said. "We assessed it was a case of mixing perceptions of the U.S. as a country, as a people and in terms of their foreign policy."
Galal and his partners did a content analysis of Arab online journalism, looking at Arab Web sites as well as the Arabic language Web sites offered by BBC and Reuters. They compared how these sites portrayed the United States through one year of content analysis. More than 1,600 items were analyzed.
The researchers found a negative online image of the United States concerning foreign policy. Even in non-Arab Web sites, the image was the same.
"They are trying to adopt an Arab point of view," Galal said.
The study recommended a sort of professional ideology for communication to be neutral. In this situation, there is a high degree of hostility that needs to be overcome.
"People are fond of the U.S. culture, its people and its modernity," Galal said. "We want to build a bridge of trust of collaborative work between the Arab world and the United States."
Galal said that through collaborative research between the universities, both are finding ways to deal with news as news. He said this partnership is important to journalism and beneficial for both parties.
"There have been many, many intensive training sessions," Galal said. "We also want the American media to be fair and balancing in their point of view."
Understanding the important role media plays in today's society, Galal recognized needs for improvement.
"Media can play an important role, and efforts are needed to improve perception," Galal said. "We must apply a code of ethics and a sort of balance to media."
ISOJ 2008: Issues in Online Journalism Research, from Knight Center on Vimeo.