Researcher Defends Student First Amendment Rights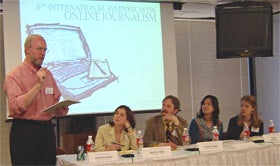 Thomas Terry kicked-off his presentation at the 6th International Symposium on Online Journalism with a statement that was anything but subtle:
"I think that everyone needs to be spanked with a little media law every now and then to keep them honest."
His presentation "Tinkering with Cyberspace: On-Campus punishment for Off-Campus Expression," expressed a need on the part of the Supreme Court to resolve how the freedom of speech translates to a high school environment.
He cites in his research, an online newspaper created in Pennsylvania 2002 by two students in the Carbon County Vocational Technical High School called Babbit.com.
"When other local newspapers were covering the prom, that Jim Thorpe was on the Wheaties Box, and the selection of the new cheerleaders, Babbit was covering an alleged dumpsite on the campus," Terry said. The topics the paper chose to cover drew negative attention from the Carbon County Vocational Technical High School, but were exactly the kind of journalism that should be taught, Terry said.
"In a post-Columbine era, it is a very reasonable concern that administrators and parents wouldn't want their students running loose on the Internet starting newspapers. I am here to contend that the First Amendment says nothing about limiting that."
ISOJ 2005: Issues in Online Journalism, from Knight Center on Vimeo.