The Keynote: Steven Kydd of Demand Media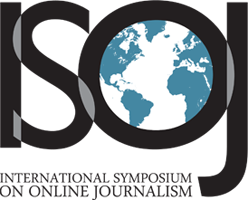 This year's keynote speech was without a doubt one of the most anticipated in the ISOJ's 11 year history. Steven Kydd of Demand Media presented an engaging speech to kick off the events, and impressively, mentioned the controversy surrounding the company first.Ever since Demand, which is the largest contributor of content to YouTube and produces a wealth of content day by day, first started gaining ground, the talk has been about how the company is a "content farm," "ruining journalism," "ripping off journalists," etc. Kydd addressed that issue first, and said that the company is very aware of how they've been perceived in the world of journalists. However, he said those perceptions are wrong.
In response to the claims that Demand is "robot journalism," what with its algorithm model of discovering and planning stories, Kydd said that, in reality, the company is using data to select from millions of ideas that everyday people are searching, from how to fix a leaky faucet to the benefits of drinking green tea.
"It's basically the world's largest pitch meeting where there isn't a bad idea," Kydd said. "And that's pretty powerful."
Interestingly enough, Kydd walked the audience through the process of article creation, which starts with analysis of the data provided by the company's computer algorithms, and then to everything from duplicate checks and editors, before landing in the hands of a writer, whose finished product is checked for plagiarism and posted to one of the sites the company is affiliated with, including Livestrong.com. Recently, the company has partnered with USA Today to power their Travel section.
"We don't do investigative journalism," Kydd said. "We're basically service journalism, or sidebar content, providing useful articles to people on how to live healthier, better, more successful lives."
The company is no bunch of scragglers either. Kydd himself came from Yahoo!, and other employees have come from places like Microsoft.
The articles published by Demand are strictly created by freelancers, and unlike many freelancers, Demand's writers get quick and instantaneous feedback on their work, from web traffic information to an online "work desk" that shows the writer what works they have in progress, what articles have been rejected, and what articles they've claimed for future publication.
"We're not trying to create full-time jobs," Kydd said. "We're trying to give freelancers a great opportunity for content production. If you ask any of our writers, they all have very different reasons for why Demand works for them."
So, why is the Demand model good? Kydd said it provides relevant, useful content that addresses specific, demonstrated needs of people online. He also said the company is one step in the evolution of the media business, but that Demand has a lot to learn as well.

ISOJ 2010:y Steven Kydd Keynote, from Knight Center on Vimeo.