11th International Symposium on Online Journalism switches venues for the new decade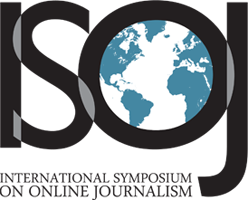 Preparations for the 11th annual International Symposium on Online Journalism are in full swing, and in just two short months, journalists, academics and the like will descend on Austin to discuss the ever-changing landscape of journalism in all its forms. For veterans of the symposium, one of the first things you'll notice is that the conference has moved venues for the 2010 incarnation. This year, the event will take place at the AT&T Executive Education and Conference Center, a gorgeous building on the south edge of the University of Texas campus that features, among other amenities, 40,000 square feet of meeting space divided among 37 rooms, wireless access throughout the entire facility and breakout rooms to support small group work. The center has become a go-to spot for meetings of all types and sizes.
When the business of the day is finished, the center also features 276 guest rooms and 21 suites onsite, making it easy to get back to your room dealing only with foot traffic and the cars on I-35. Food is also available at the conference center and offers dining options of all types, from five-star cuisine to casual fare to the One Twenty 5 Cafe, a coffee and light fare bar. A fitness center and outdoor pool is located on the hotel grounds as well.
The location of the facility provides easy access to many on-campus resources and museums, including the Bob Bullock Texas State HIstory Museum, the Blanton Art Museum and the Harry Ransom Center, an absolute gem of a building that contains everything from one of the few surviving copies of the Gutenberg Bible to the Watergate note collection of Woodward and Bernstein to, most recently, nearly 200,000 prints of world famous Magnum photographs thanks to a partnership announced only weeks ago.
For those looking to branch out even more, the building is located close to several city-renowned restaurants. And, for those attendees looking to let loose in the evenings after the symposium's activities, it's only a short burst from the city's famed downtown district.
You can find more information about the AT&T Executive Education and Conference Center here.