2010 Symposium is record-breaking for research portion of event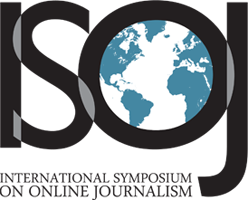 The 2010 International Symposium on Online Journalism will be a record-breaking one for the eleventh year of the event. The research portion of the conference, which began in 2004, has seen a steady increase in participation, and 2010 featured the highest number of submissions ever.
"We received over 40 submissions this year, and that just goes to show the strengths of this conference since the research portion was started six years ago," Symposium Research Chair Amy Schmitz Weiss said. "The symposium is a conference that brings great scholarship from faculty and students and showcases the work that they are doing.
Schmitz Weiss, who first attended the symposium in 2003, said that the conference is accepting more papers this year because of the increased number of submissions. Usually, approximately 12 papers are selected for presentation, but 2010 will see a total of 24, divided into four research panels of six presentations each. She said that this year will feature much talk on mobile devices, in particular the recently announced Apple iPad, and how they relate to the profession.
"For me, it seems to be the beginning of looking at how we interact with technology based on our gestures, and this is going to be a continuing development on how we work," she said. "We have had tablets before that have not done very successfully, but Apple is one of those companies that when they make something, everybody wants to follow along.
Along with her role in the symposium, Schmitz Weiss is an assistant professor in the School of Journalism and Media Studies at San Diego State University. She is part of an innovative program the university is implementing to explore new ways to train future journalists.
"There is a big question as far as how to teach journalism; is it best to focus on the technology and its applications or is it best to focus on the skills, or is it both?" she said. "I focus on the basic skills that are always going to be there, like news gathering and reporting, and how technology can complement the job of the journalist. It (the technology) is not doing it for them, but I teach them how to best use the situation they are in, become more savvy and get the information they need under deadline."
To learn more about Amy Schmitz Weiss, visit her personal website Digital Amy.
She can also be followed on Twitter.
To view the papers from last year, click here.