Attracting the Scanning Eyes of Younger Readers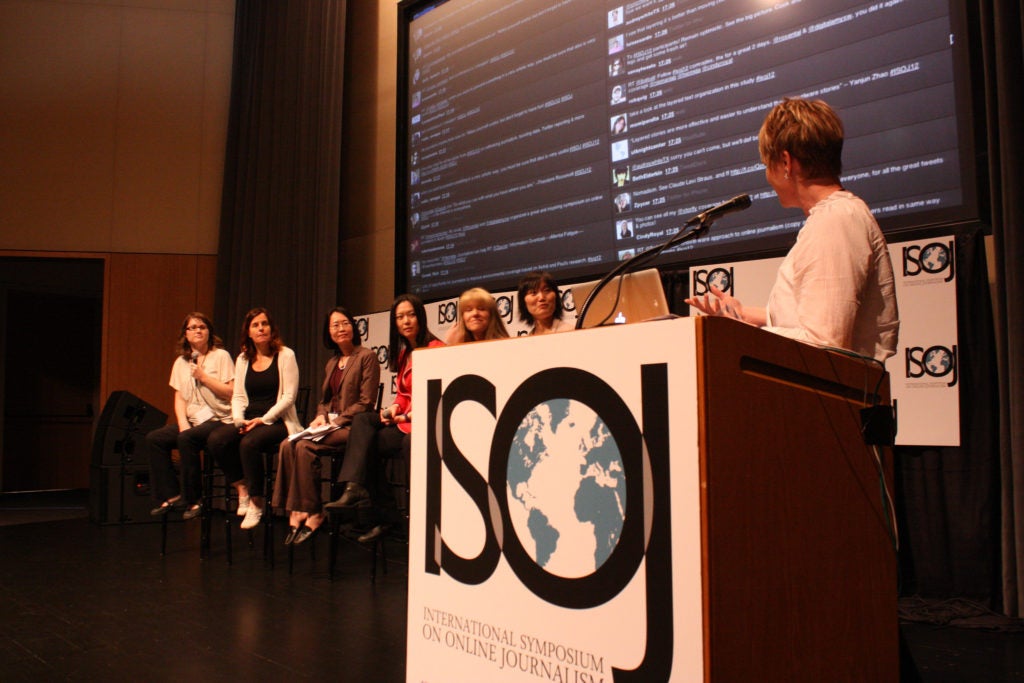 Rosellen Downey, Erika Johnson, and Bailey Brewer, University of Missouri: Through the lens: Visual framing of the Japan tsunami in U.S., British, and Chinese online media
After the tsunami in Japan, China had the most abundant news coverage out of United States, British and Chinese online media.
On the day of the natural disaster, Rosellen Downey and her two colleagues analyzed every photo about the tsunami on NPR, BBC and Xinhua. In total, there were 58 photos on NPR's website, 52 on BBC's and 132 on Xinhua's.
"China's abundant coverage was due to geographic proximity," Downey said.
Out of the 132 photographs in the Chinese media, most showed civilian coverage. There were few photos of single individuals. Thirty percent of the coverage was of landscapes.
"We did this study because there is a lack of visual framing research," Downey said. "Textual elements are studied more often. If there was visual, it was war and terrorism, not necessarily natural disasters."
Hsiang Iris Chyi, University of Texas at Austin: Are digital natives dropping print newspapers?
"Digital natives" are not dropping print newspapers in favor of their online counterparts as most think they would or have, according to a study done by Hsiang Iris Chyi.
"Nine out of 10 journalists believed young adults prefer online news to print news," Chyi said.
Most college newspapers publish online and print versions of their publications. These papers are free, target college students and publish things most relevant to campus life, according to Chyi.
With the College Media Association, Chyi surveyed 198 U.S. college newspapers and found that more than 60 percent of respondents see it unlikely or very unlikely that their publication would be online only in five years.
One responded said the move to an online-only publication "would be the death of this paper."
Hsiang Iris Chyi and Angela M. Lee, University of Texas at Austin: Theorizing Online News Consumption: A structural model linking preference, use, and paying intent
"Online news consumption is multifaceted," Angela Lee said. "You need to look at the psychological factors of online news use."
After reviewing 15 years of literature and research, Chyi and Lee found that there are three distinct factors when looking at online news: use, preference and the intention to pay.
"Preference for print edition remains robust in terms of intention to pay," Chyi said.
However, other variables may influence these factors, including age, gender and news interests.
"Preference does not equal use and use does not equal intention to pay," Chyi said.
According to Lee, the dilemma for the journalism industry is balancing the fact that younger people are more likely to pay for news online but are less interested in news in general. Therefore, news interest should be promoted among younger generations, she said.
Tania Cantrell Rosas-Moreno, Loyola University (Maryland): Verbal and visual national news framing of Dilma Rousseff and her successful bid as Brazil′s first female president
In Tania Cantrell Rosas-Moreno's second part of a three-part analysis of Brazil's first female president, she first asked herself, "How in the world did an individual who had never ran for political office run for political office and is now in charge of the country with the eighth largest economy?"
Dilma Rousseff took over as Brazil's president during the sixth election since Brazil's move to democracy in 1985.
After no clear winner surfaced during the first round of elections, Dilma ended up defeating Jose Serra for the presidency.
Through manifest and latent content, Rosas-Moreno was able to look at pictures and text to see what news frames emerged from the Brazilian online news coverage during Dilma's campaign.
In the news media, Rosas-Moreno found that Dilma was framed as the successor and also offered an air of new hope for the country.
"She spoke on how you can make a difference," Rosas-Moreno said. "She adopted the Obama slogan 'Yes we can.' Social media also played a large role in her ability to connect with people."
Astrid Gynnild, University of Bergen (Norway) and Paul C. Adams, University of Texas at Austin: Animation, documentary or interactive gaming? Exploring communicative aspects of environmental messaging online
"We all know it's important, but do the messages actually get through?" Astrid Gynnild asked. "Do people listen to these kinds of news? Does climate news actually change people's attitudes and actions?"
Through her research with Paul Adams, Gynnild found that resourceful young people were bored to death by environmental issues in the media.
After studying students from the journalism and petroleum engineering fields, "we found they were all in a state of information overload," Gynnild said. "They were mentally fatigued, bored and tired of it all."
To change this, Gynnild said interactive gaming helps young people to explore. "It makes you think while you are having fun!"
The interactive gaming is seen as complimentary, but it needs to be combined with good journalism, Gynnild said.
"I'm sure that interactive faming in a few years will be much more used than today."
Yanjun Zhao, Cameron University: More than shovelware: A call for layered stories for online journalism
"People don't read online stories," Yanjun Zhao said. "They just scan."
In order for an online publication to be user friendly, the visual design of the pages and the logical presentation of information is important.
"It makes it easy for the user to find the desired information quickly and efficiently," Zhao said.
Most online newspapers today practice shovelware, which is the process of transferring content from the newspaper to the online page with little or no revision.
"This assumes that people would read an article online the same way as they would read a print version," Zhao said.
According to Zhao, using a layering approach which divides text-based stories into several sections makes online news more structured.
"It's better organized, easier to read, easier to understand, more visually attractive, causes less fatigue and is less boring," Zhao said.
ISOJ 2012: "Measuring today's news consumption" panel Q&A, from Knight Center on Vimeo.