Augmented reality will help people worldwide turn into journalists, Seen.tv co-founder tells ISOJ crowd
The future of the news is on our faces, with augmented reality (AR) poised to be how we all engage with journalism within the decade.
This is according to Yusuf Omar, co-founder of Seen.tv, a video publishing app with around 7 million subscribers.
"I believe [augmented reality filters] have incredibly powerful implications for the future of journalism," Omar said. "And I believe every single organization in this room is going to be either publishing with AR in the next five years or you're not going to exist."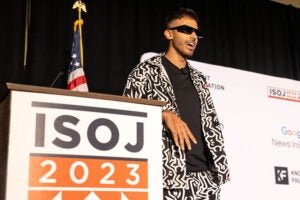 Omar previously attended the ISOJ conference in 2018, where he said news organizations should focus on publishing vertical videos and the platforms that support them. At the 2023 ISOJ on April 15, Omar dug deeper into using phones as tools for citizen journalists, or MOJOs (mobile journalists), referencing how Tik Tok has grown in popularity over the last few years.
Omar pointed at cell phone users as the next untapped creator platform, comparing them to an iceberg under a media landscape mountain, with peaks that include content platforms like Netflix, news publishers like Vice and YouTube content creators.
These cell phone users have cameras in their phones, which has allowed Seen.tv to publish over 4,000 videos without buying any camera equipment.
"There's a massive myth that video is expensive, right?" Omar said. "You think it's expensive, so people, kind of, don't do it. But that's not true. For us, the solution is AR."
Omar and his partner and Seen.tv co-founder, Sumaiya, traveled the world training people to use their cell phones for journalism. Omar said the task was difficult, leading the pair to hire more than a hundred people to edit and produce stories for people using the app.
The pair eventually scaled down Seen.tv's staff, after using AR to preload templates and filters with information in them to help the app's users to publish content.
Example videos Omar showed included a young South Sudanese boy filming a refugee settlement in Uganda, saying teen pregnancies went up during the COVID-19 pandemic. Another was of a 24-year-old woman who was a commercial pilot describing her life.
Even with less staff, Seen.tv has now gone on to produce 12 shows and trained 20,000 users, with shows involving money, sex education and health among others. Omar believes that anyone with a cell phone has the potential to become a journalist that can produce factual, high-quality stories.
"These are the innovators, the changemakers, the unsung heroes, the communities, the middle America that The New York Times today told us that they're trying to tap into and they're saying, we're trying to get correspondents there," Omar said, in reference to New York Times Executive Editor Joe Kahn stating during an ISOJ panel earlier in the day that they had too many reporters on the coasts of the country. "You have people with mobile phones who can tell their own stories if you empower them to do so."
Omar, quoting a Snap, Inc. projection, said 75% of the world will use AR in some form by 2025, and that the news industry will naturally follow suit. He quipped that half those attending ISOJ in 2030 would be wearing wearable technology and engaging with AR, and that news organizations needed to grow their audience, invest in AR and diversify their revenue streams to sustain the technology.
"It's moving so, so quickly," Omar said. "But unfortunately, if you don't make the right investments today, you're going to be so out of the loop by the time this thing takes off."
University of Southern California-Annenberg Professor of Professional Practice, Robert Hernandez, told ISOJ attendees that Omar's predictions were likely for the future of journalism.
"If you're looking at him like, man, those pants are crazy and what you're saying is crazy," Hernandez said, referring to Omar's outfit with Keith Haring art. "You're probably the person in the newsroom that needs to self-reflect."
Hernandez continued, "If you remember those who heard the Internet thought, 'Oh, it's a fad, it's never going to work.' The same model for mobile. 'It's never going to work.' Social [media], 'It's never going to work.' AR, AI, all these things are happening and you need to embrace them."
An audience member asked Omar about how 70% of Seen.tv's users being women affected the company's stance against harassment and abuse women receive online.
Omar said Seen.tv's newsroom, which he said was 80% women, was divided on the issue, but that they did not delete comments against women on the app unless it is hate speech or incites violence.
"We don't want to find ourselves in a small corner of the Internet where we're only talking to ourselves on liberal, left-leaning values," Omar said. "We want to be able to engage people and hopefully change their minds over time."
A Venezuelan journalist asked Omar how people are supposed to trust AR in journalism if it uses face filters.
"If I see someone that is talking to me that has, for example, a rhinoceros mask on, I'm not going to trust them," the journalist said, in reference to an earlier video Omar showed of him with an AR rhino face. "I'm not going to trust them as much as I would trust someone who would just talk to me face to face as a person."
"Don't be distracted by the gimmicks," Omar told the journalist. "I've been to Venezuela and Colombia. We've done so many great stories and incredibly powerful journalism. Try not to be distracted by the gimmicky sides of it."
Hernandez added that YouTube was available for anyone to learn AR for free in several languages, with Omar saying degrees were not relevant for this field of journalism.
Author's Bio: Gaige Davila is a reporter with Texas Public Radio, covering immigration, social justice, environment and culture in the Rio Grande Valley.