Avoiding the 'heads buried in the sand scenario': experts discussed effective climate change coverage in the news, fostering connection with readers
Conveying the consequences of climate change in an accurate, digestible way continues to challenge environmental reporters. In addressing how to improve coverage of the climate crisis, a group of panelists at the 2023 International Symposium on Online Journalism (ISOJ) shared the importance of making stories more personal for readers, re-imagining storytelling, collaborating in the spread of information and promoting optimism through solutions. 
During the panel, "How to improve the coverage of the climate crisis and avoid the 'Don't Look Up' scenario," the experts pulled from their respective experience in communicating the state of climate change, emphasizing that journalists must be mindful about audience engagement in addition to simply reporting the facts. 
The April 15 panel was moderated by John Schwartz, professor in the School of Journalism and Media at UT Austin and a former science reporter for The New York Times. In opening the discussion, Schwartz acknowledged that journalists are still trying to figure out the best way to tell the story of the climate crisis.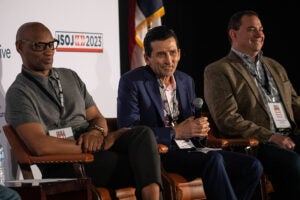 "The problem with climate change isn't something we deal with half-assedly," Schwartz said. "It takes commitment from reporters." 
Manuela Andreoni, a climate reporter based in Brazil for The New York Times, shared how to "help people look up, down and around" with a three-pronged approach: bring it closer, surprise people and make the issues personal. 
Andreoni explained how readers often feel disconnected and struggle to find meaning in climate news if the stories occur far away from them. To combat this, she said reporters should use investigative reporting to help readers feel reconnected with issues like climate change and the biodiversity crisis. Additionally, she said this must be done in a way that's unique to put a fresh perspective on topics that may feel repetitive in the news. 
As the writer of The New York Times' Climate Forward newsletter, Andreoni said reporters must show readers how the changing climate matters in their daily lives. Building that connection with readers, she said, will help them better engage with the issues being covered. 
"We're talking about changing the planet in ways that are going to make it inhabitable to us, so we're talking about saving us," Andreoni said. "It's important to really connect with readers in this very personal space of how things are changing in their own lives and how their own lives impact these changes." 
New storytelling required
Darryl Fears, an environmental justice reporter at The Washington Post, said engagement also requires stronger leadership and reimagined storytelling. 
Fears emphasized the need for creating a new model for telling environmental stories, one that relies more on the value of "cinematic appeal" from photographers, designers and artists who can help readers see the problem that reporters are describing. 
Additionally, Fears said he decided to pay closer attention to "America's climate change canaries," or the people who are on the front lines of climate change: communities of color and low-income communities. 
"These people are going to be able to tell us what the future looks like for all of us," Fears said. "We need to make every effort to give them the time and attention they deserve." 
Fears said people should also analyze how money is distributed between environmental organizations because environmental justice groups are often "anemic in their funding." 
Vernon Loeb, the executive editor of Inside Climate News, said his experience in the nonprofit sector of journalism taught him to see other journalists as collaborators in this effort, not competitors. The need for collaboration is extraordinary, he said, because climate change is such an enormous story to tackle. 
Loeb also said journalists have an incredibly strong power to confront complacency and advocate for a solution to the climate crisis if they work together and "fill the regional gaps." 
"Now, suddenly, there's this sharing … there's this collaboration, and, if anything, it's going to help make up for the loss of all these local reporters," Loeb said. "If anything is going to help make up for that loss of really deep, meaningful information at the local level, it's going to be this kind of collaboration." 
Michael Webber, the Josey Centennial Professor in Energy Resources at UT Austin, brought his perspective as an engineer and environmental news consumer to the panel. While he said climate coverage has come a long way, there's still room to focus more on optimism and complex solutions. 
Webber said the cost of doing nothing in response to climate change is far more expensive than clean energy, and he recommended that reporters include that fact more in their coverage. This, and pointing to signs of optimism, could strengthen climate change journalism, he said. 
"We have to take urgent action because … we want to avoid the bad news, but look at all the good stuff we get when we get to take action," Webber said. "It leads to better jobs, cleaner everything, better equity of how we access energy (and) better equity of who suffers from air pollution." 
Climate change deniers threaten the spread of truth, ultimately raising the question of what reporters can do to combat disinformation. When asked about how this should be addressed, the panelists agreed that reporters should use scientists as a starting point for identifying facts and solutions that can then be broken down for readers. 
Scared into action?
Sometimes the science can be scary to read. However, Loeb said he strongly believes there are appropriate times when climate coverage should scare people, pointing out there's a "false dichotomy" between doom journalism and solutions journalism. 
"In every story that scares people, there are solutions," Loeb said. "Getting scared, to some extent, is a solution." 
As reporters learn to strike a balance between providing the hard, often scary truth and highlighting optimistic solutions, Schwartz reminded listeners that framing coverage to insight fear is not the right approach. 
Journalists are still learning the most effective tools for communicating environmental news, but the panelists were all in agreement that, in the end, reporters must remain committed to reporting the facts because journalism is a powerful tool in the fight against climate change.
Author's Bio: Sarah Brager is a second-year journalism student at UT Austin. She's currently a general news reporter for The Daily Texan and a reporting fellow for Community Impact Newspaper, where she focuses on diverse, hyperlocal coverage of the Austin community.