Brazilian media grew during the pandemic and they are betting on subscriptions
This panel was a part of the 13th Ibero-American Colloquium on Digital Journalism that was completely online on July 25, 2020. See this and other panels of that day here.
Brazilian digital media outlets like JOTA, NEX and Ponte grew during the COVID-19 pandemic and they are betting more and more on their subscriptions and membership programs to keep themselves afloat, said some of their founders during a panel at the 13th Ibero-American Colloquium on Digital Journalism.
The panel, "The new digital journalism in Brazil" was moderated by Janine Warner, cofounder of SembraMedia. Since 2008, the Ibero-American Colloquium takes place a day after the International Symposium of Online Journalism (ISOJ), and united journalists from Latin America, Spain and Portugal to discuss the present and future of digital journalism in the region.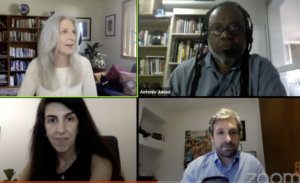 Felipe Seligman, cofounder of JOTA, said that the outlet's revenue via their subscriptions had increased 15% since the start of the pandemic, because the access to information is more difficult and more important at the same time.
"We also have a lot of sponsorships for our webinars that work very well, and [also] for our public newsletters, which we just started. We are staying positive [in the financial aspect] and it is something good," he said.
The website, founded in 2014, aims to cover legal and regulatory topics, for a specialized audience of students and legal professionals, as well as professionals from the financial markets, healthcare or of the industry. According to Seligman, JOTA provides a didactic, in-depth, detailed and "extremely technical" coverage.
Seligman said that today Jota has a team composed of 63 people, and 85% of the revenue comes from subscriptions, primarily corporate. They are investing in specific product, with digital subscriptions directed to the fiscal, regulatory or health sector, for example.
"We have 350 signature of lawyers who are subscribers and 150 banks and funds, including 7,000 to 8,000 individual subscribers," he said. They also have an audience of 350,000 free account users. "We know that, of the 15 thousand Brazilian magistrates, more than 7 thousand are in this database of free users and they consume our information in their daily lives," he said.
Paula Miraglia, cofounder of Nexo, said she is also betting on subscriptions, which today constitute to around 50% of the outlet's revenue. At first, Nexo relied on an investment made by the founders themselves and, last year they received the support of $920,000 U.S. dollars from Luminate, an organization which belongs to the Omidyar group.
With the pandemic, Miraglia said that the media outlet decided to suspend its paywall to all information about the coronavirus on the site, something that their readers "recognized very much."
"Eighty percent of our content is outside of the paywall, relating to COVID-19. Since we eliminated the paywall, we have seen an increase of 18% in our subscriptions," Miraglia said.
She explained that Nexo has a multidisciplinary team, centered in contextual journalism. "We are not interested in breaking news, we make journalism that looks for more profound information and new formats, journalism that has a longer shelf life than breaking news."
Antonio Junião, director and cofounder of Ponte, also said that its audience grew. The outlet is financed by donations made by readers and foundations. "Today we have a permanent crowdfunding, but we are studying and consulting to convert this into a good plan for the members," he said.
Ponte covers justice, human rights and security issues with a focus on state violence and with an very important presence in localities located in the outskirts. It was created in 2014 by journalist that had abandoned the traditional press. They realized that in big outlets they couldn't cover human rights issues like they would have liked, and, for that reason, they founded Ponte.
"The state violence here in Brazil has many destinations, but it has a territory, which is primarily in the outskirts of town. Anytime we talk about racism, gender crimes,mass incarceration, police violence, religious violence, imprisonment without proof, these are types of violence that are everywhere, but primarily in the outskirts, and Black people and poor people are the ones that suffer the most," Junião said.
He pointed out that Ponte was one of the first media outlets to draw attention to the racial component in police and state violence. "We emphasize that the police are murdering Black people and the role of race in convicting the accused. This has influenced other outlets to do the same, which has become more evident now with the aftermath of George Floyd's death," he said.
To see this panel and all of the Colloquium, visit our YouTube channel.