Citizen Journalism is Emerging Around the World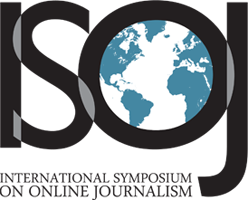 Pet photographs, little league statistics and 49th wedding anniversary announcements may not make it into traditional news sources, but these and other quirky topics are increasingly fodder for outlets publishing content from citizen journalists. A panel earlier today addresses the possibilities – and possible problems – raised by citizen journalism.
Although she said she prefers the term, "participatory journalism," entrepreneur and business journalist Barbara Bry served as chair for the panel titled, "The Emergence of Citizen Journalism and Online Media." The International Symposium on Online Journalism panel also included presentations by Elizabeth Osder, who works in local, search and social media for yahoo.com, Clyde Bentley, founder of mymissourian.com, and Dan Pacheco, a senior product manager for bakotopia.com.
While yahoo.com does not rely on citizen journalists to produce full articles, Osder said that the site works as an aggregator and tries to involve community members at multiple levels.
"I think this fixation with everyone writing long-format articles is not the approach I take," Osder said. "I want people to use what we have and add value to it before I have them create all kinds of new content. We want people to be their own syndicators."
Accordingly to Osder, the most important aspect of yahoo.com, when it comes to news or any other part of the site, is that it acts as a community. Bentley reinforced the significance community has when dealing with models for citizen journalism and other new media.
"Connecting to a community is more important than offering an alternative voice," Bentley said.
Connecting to a community has been a challenge for newspapers and other traditional outlets. In Bakersfield, CA, the newspaper was losing its connection to the youth demographic. The online community at bakatopia.com has been successful in helping to reestablish relevance for younger readers.
"This is really an audience-focused community product," Pacheco said. "For the myspace generation, connectivity is a key activity, something they're looking for. They're already doing it on a lot of sites, and when you have something local…it really gels."
Pacheco went on to say that he thinks the community aspect of the site is what leads to the quality and civility of the conversations that happen there.
"Persona and identity are essential to enabling civil conversations," Pacheco said. "If you have an anonymous community … then all the bad people are going to gravitate there and post a lot of drivel."
Accountability and credibility are issues for community journalists and social media sites. Bentley said that the implementation of four simple rules guiding content eliminated 95 percent of the content problems at mymissourian.com. While editing Voice of San Diego, Bry chose to build credibility by making sure that literally every piece of content at the site went through an editorial process.
According to Osder, the means for building credibility are changing. "There is a new dynamic of credibility being created, a new dynamic of trust, reputation and authority."
ISOJ 2006: Citizen Journalism and Social Media, from Knight Center on Vimeo.