The News Industry Rethinks Multimedia Storytelling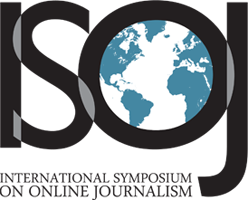 Multimedia editors and news producers converged during the 7th International Symposium on Online Journalism at the University of Texas' College of Communication Friday to convey one unified message – incorporating interactive media in a more innovative fashion.
"This is the essence of journalism. We can be the eyes and ears for people who can't be somewhere," Jen Friedberg, multimedia producer for the Fort Worth Star Telegram said. "The fusion of newspapers and video reporting is a critical step in multimedia news coverage."
Mindy McAdams, professor and Knight Chair in Journalism at the University of Florida said the best multimedia media makes a personal connection with its audience. McAdams, who is author of Flash Journalism: How to Create Multimedia News Package, commonly referred to as the "bible" for flash journalists, emphasized the importance of good story telling.
"When we say multimedia today, we mean a certain kind of experience that is interactive, personal and computer based," McAdams said. "Those three things should drive design."
McAdams stressed the need to move beyond linear text stories.
"Linear media stories are strung together in a certain order by a reporter and an editor to draw readers in," she said.
McAdams said multimedia goes beyond this by providing real choices, letting users decide what information they want to explore and gives up control of the story.
"If you want people to cry, you zoom in; if you want people to laugh, you zoom out and slip on a banana peel," McAdams said.
Ashley Wells, executive producer of MSNBC's editorial concepts division said multimedia is not about giving the user random or meaningless choices, it's about having control.
"Why not take risks?" Wells said while unveiling MSNBC's experimental 360 camera film footage of hurricane Katrina's aftermath in New Orleans.
"Photo slideshows are not the be-all-do-all of what we can do with multimedia," he said. "Why not think outside the box?"
ISOJ 2006: Multimedia Journalism Narrative, from Knight Center on Vimeo.