Content is the message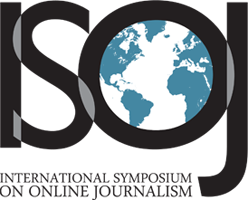 Symposium-goers who stuck around for the final panel of the International Symposium on Online Journalism Saturday, "Issues in Online Journalism Research," listened to a grab bag of research presentations on current topics related to online journalism from around the world. Ashraf Galal, a professor at Qatar University, led the discussion with his paper that explored the tension between Arabs and Americans in the context of online journalism.
"Arab media looks at the United States as an unfair country," Galal said. "We need to change this image."
Galal blamed biased media coverage for contributing to the mutual false perceptions between Arabs and Americans. His analysis of Arab news media Web sites found a favorable portrayal of American culture and values, but a negative and often biased portrayal of American foreign policy.
Galal said the growth of online journalism in Arab regimes has loosened the grip of authoritarian governments on news media, creating an opportunity for balanced and accurate coverage of the United States. He said the key to exploiting that opportunity is education.
"The curriculum must encourage dialogue between Arabs and Americans, so as to achieve civilized dialogue between the both of us," Galal said.
Fernando Zamith, a researcher from University of Porto, followed up with an analysis of news Web sites in Portugal and their use of hypertext, multimedia and interactive features of the Web.
Zamith's research concluded that Portuguese news Web sites use less than a quarter of new media features.
"They're using only 21% of the potentialities on the Internet," Zamith said. "More than half the people in Portugal are using the internet – it's not a problem of not having people there."
Joao Canavilhas, also from Portugal, agreed that newspapers are reluctant to change the format of news stories.
"Newspapers are afraid to use hypertext," Canavilhas said. "Journalists must answer to the differences in the audience."
Zamith said educating the next generation of journalists was the key to Portuguese news media taking greater advantage of online tools.
"More journalists are needed," he said. "Now we have universities that teach online journalism in a more profound way. The problem is to contract the young people now."
Most Portuguese online news sites transplant their print stories directly to the Web without adding Web-specific features, creating so-called shovelware.
"It's a pity. Most of what the Portuguese websites are doing now is shovelware," Zamith said. "Most of the news agencies are using the inverted pyramid [news story format] with no links. There's no human go-between from the newspaper to the Web."
The New York Times and the Washington Post also shovel a significant amount of their content onto the Web, Richard Stevens said.
While Stevens' research showed leading American news Web sites lacking in Web usability, it focused on their failure to tailor news content to mobile phones.
"Mobile usage is on the rise," Stevens said. "There are twice as many cell phones as there are computers in the world."
The smaller screens and lower Internet speeds call for less text and fewer page jumps to make it easier for cell phone users to read news stories on-the-go.
"The ease of use needs to be the primary component," Stevens said. "It's a very different experience. It needs to be even easier to use."
Only 7% of Americans access news via their cell phones on a daily basis, a percentage Stevens believes will grow as news media realize the importance of the new medium.
"Rewriting content is important for the web platform but it is absolutely critical for the mobile web platform," Stevens said.
ISOJ 2008: Issues in Online Journalism Research, from Knight Center on Vimeo.