Day 1 Notes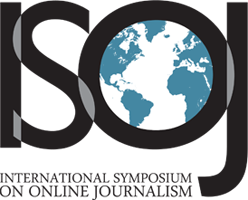 The first day of the 11th International Symposium on Online Journalism was a doozy, with many great panels, discussions and enlightening facts. With that in mind, here are my own personal notes and observations from the activities of the conference's first day. It didn't rain. Lately, the Friday session of the symposium has always been associated with torrential rainfall, giving way to massive humidity the next day. This year, we skipped the rain portion and went straight to the humidity. For those of you who got to stick around inside all day, count yourselves lucky. I had to go to class, so I got to sweat off about 15 pounds in the span of 20 minutes. Not that I'm complaining or anything, though…
The keynote speech was great. Demand Media's Steven Kydd gave a fantastic keynote address about his company, what they do, how they do it and, most importantly, how they make money. Kydd is a charismatic individual and certainly got most of the crowd behind him when discussing the company that has received a fair amount of criticism and controversy.
The keynote Q&A could have been better. Personally, I was bit disappointed with the questions asked during Kydd's speech. With all of the controversy surrounding Demand Media, nobody called him out on those controversial points. In particular, when asked how much their writers get paid, he said that it ranges from nothing (based on a revenue share basis) to $100s and $1000s of dollars for a single assignment. However, that's very rare, and payment typically goes about $15 for a 500 word story. I'm curious as to whether Kydd's charisma and personality wooed the audience a bit too much.
Joshua Benton is a fantastic panel chair. Even with technical difficulties, Benton kept things light and humorous as the panelists struggled to get their fancy technology working. Good job, Joshua!
Oh, the irony. The most technical difficulties occurred in a panel about tablet computers and e-readers, some of the newest technologies available and devices that people are citing as saviors. That's kind of funny.
Let's watch you use that iPad. Tom Bodkin did his presentation from the iPad, a great idea and something that cool to think about (especially since I desperately want one), but rather than simply seeing the keynote, it would have been nice to see him working on the actual application within the device. We've all seen keynote before, but many haven't seen a presentation created on an iPad.
Earl Wilkinson is a fiery man. The CEO of the International Newsmedia Marketing Association chaired the panel looking at ongoing strategies for the survival of newspapers, and it was a religious experience. Wilkinson is a fantastic public speaker, and his technique was almost like that of a tent-revival evangelist. I'm a fan.
No classroom time? Dean Graber expressed a desire for journalism students to have courses where they are immersed in the city they live in, learning about that cities services and how they do and do not work. In other words, there should be as little time as possible spent in the classroom. That's a novel idea…
O, Canada. Alfred Hermida and Amanda Ash presented research about the development of a wiki for Canadian music, and it's a fantastic idea, especially to me, being an admitted music nerd. However, I must express woe that Nickelback is therefore included in the project, since they're from Canada. Amanda also woefully mentioned Justin Bieber, but don't lie, we all love the Bieb.
Stay safe. Unfortunately Maria Holubowicz could not attend the event because of the continuing problems caused by ash from the Icelandic volcano eruption. We're sad you couldn't come, Maria, and please stay safe.
Math? But we're journalists! Maria Laura Martinez presented an intriguing concept called "Black's Wheel," but judging from the majority of tweets and reaction from symposium attendees, it was hard to understand, and was a little too math-oriented for some of the audience's liking. Anyone know quantum physics?
Rosental's phrases are famous. Symposium organizer Rosental Alves is notorious for many of the phrases he utters often, and it's always nice to see other people reference them. Robert Bergland began his presentation by citing "Let's rock 'n' roll!" Yes, Robert, let's.
Cindy Royal can work a crowd. All the presenters and panelists at the symposium were well received, but Texas State's Cindy Royal was especially loved and congratulated in the Twittersphere for her presentation.
Cindy also gets retweeted. This is just a rough estimate, but I think one of, if not the most, retweeted facts also came from Royal's presentation, which said that journalism professors should encourage their female students to enter the growing ranks of journalist-developers and programmers.
The ash! The ash! The best joke of the day came from Arne Krumsvik, who after a cough during his presentation, teased, "Sorry, it's a little volcanic ash."
It was definitely an eventful day, and tomorrow promises to be even better. Make sure you come back for panels on participatory and non-profit journalism, as well as more great research panels.
Also, there's a small chance of rain tomorrow, so bring your umbrella!