Diving deep into journalism engagement with peer-reviewed research for the ISOJ Journal
The International Symposium on Online Journalism (ISOJ) welcomed scholars from around the world to share their research focused on media engagement and the evolution of Latinx media.
The research papers for the panelists who presented on April 30 during the virtual conference were selected during a peer-review process and are available as part of the #ISOJ Journal.
Mark Poepsel
of Southern Illinois at Edwardsville was the first to share his findings on engaged journalism. He asked, "What do news organizations actually do when they practice engaged journalism, and how prevalent is the function of fostering community conversation as opposed to the function of fostering collaborative content creation?"
After collecting upwards of 100 case studies from a database called Gather, he measured journalism engagement in three categories: content collaborations, facilitating conversation and random acts of empowerment.
"When you achieve outcomes, you have something for the community to talk about. This is what moves engaged journalism out of the realm of PR and branding (not that there's anything wrong with that) and into reciprocity building," he said.
Two researchers who mapped digital-native Latinx news in the U.S. were second to present as part of this panel. They were also the winners of the Top Research Paper Award.
Latinx media has been part of the American news media landscape for two centuries, and while media and outreach is always changing, there is still a lack of investigations about diversity in digital journalism. Jessica Retis and Lourdes M. Cueva Chacón sought to fill this gap with their research project to identify new news media outlets and advance the study of contemporary practices. They not only documented Latinx media in the country, but examined online content and the strategies to produce and disseminate information. They also identified the way those media outlets interact with their audiences.
By mapping ethnic online media that produce content solely in English, or in English and Spanish, studies help advance "theoretical debates on ethnic media as independent spheres focused on speaking to minority voices to move the perspective into understanding what needs to be in place in order for these voices to be heard," Retis and Cueva Chácon said.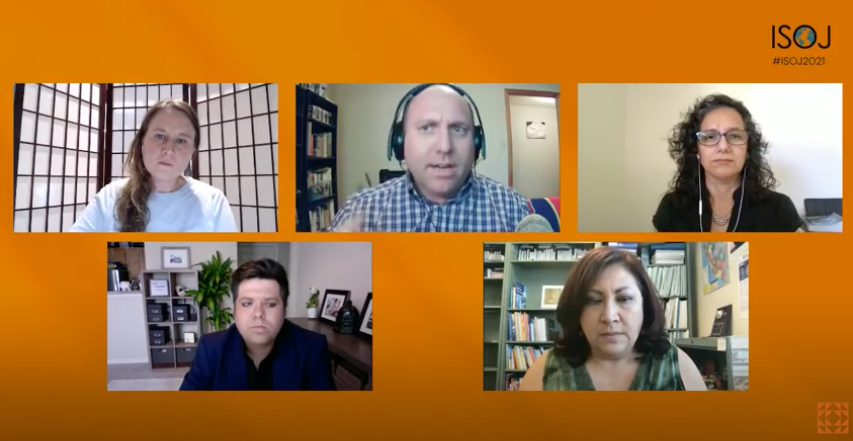 The focus on Latinx audiences is shared by Ryan Wallace and his research, "The language of online news: How science and health reporting in English impacts Latinx audiences." He sought to understand the linguistic characteristics of the news, the implications of existing journalistic practices, the biases that exist, and finally, how future reporting could be improved.
He found that while large publications did publish content that was relevant and applicable to the Latinx community, all content was still mostly in English and varied greatly in terms of adapting to other languages. There was a range of translated content, however, it was published days later than the breaking news in English.
You can watch the entire panel's complete presentations in English or Spanish, and view their peer-reviewed research papers for the 11th volume of the ISOJ Journal here.