Traditional opinion sections are evolving and adapting to the digital media ecosystem
Traditional opinion sections of newspapers have evolved to adapt to the digital media ecosystem, while new forms of opinion journalism emerge. It's not the old op-ed page anymore: there are platforms, collaborations, networks and media outlets allowing opinion journalists to express their work in less traditional ways.
From newspaper editors to independent journalists, four distinguished journalists came together for a panel discussion on Thursday, April 29, 2021 at the International Symposium on Online Journalism (ISOJ) to explore the changes and growth of opinion journalism.
Opening this panel was
Sewell Chan
, editorial page editor for The Los Angeles Times. He began his presentation by emphasizing that opinion journalism must help rebuild trust in a public square. "I mean, really the ability to focus on everything we publish, on good faith arguments. So, really taking the traditional precepts around persuasion, rhetoric, use of evidence, use of logic, the ability to anticipate and prebut countervailing arguments, and a general tone of civility that we would like to see modeled in our society as a whole."
Karen Attiah, global opinions editor for The Washington Post, shared that she doesn't think opinion journalism will be disappearing any time soon. "Audiences are starting to call for a difference. This push and pull is going to continue."
She added that one of the challenges with opinion journalism is adding value to conversations. "We add value to the conversations by several standards, such as fact checking, basic editing and inclusion. And, I think we're realizing that inclusion of various voices is not only just a luxury, but it is an imperative. If we are going to remain relevant and remain adding value, we have to continue to uphold these standards."
Writer and editor at Slow Boring, Matthew Yglesias opened his presentation by describing some of the differences between writing opinion journalism for solo publications as opposed to larger institutions. One being that you have more freedom on what to write for your own group of readers. But the trade-off is a smaller reach.
He closed his presentation by touching on why he made the decision to abandon Vox media to enjoy more editorial independence, "Having columnists who live in Washington and write about politics and say 'senators do this or that,' it's actually incredibly old-fashioned. It's so old-fashioned that I think in some ways it may not make as much sense in the modern version of what digital newspapers are. And it's why I think unbundling makes sense for me, and for other people who are in my kind of situation. It's an old fashioned kind of work that needs a new kind of business model."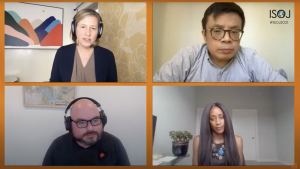 Chair and presenter, Katie Kingsbury, opinion editor for The New York Times, began her presentation by quoting J.B. Oakes, the driving force behind The New York Times' first modern op-ed page 50 years ago.
"Diversity of opinion is the lifeblood of democracy. The minute we begin to insist that everyone think the same way we think, our democratic way of life is in danger."
From the beginning, democracy has been at the heart of what is done at New York Times opinion, but Kingsbury has also noted that legacy also puts an enormous pressure on the team to constantly reassess what the modern opinion report can and should be. A few things her team works on are constantly refining its strategies around social media, newsletters, comments and onsite programming.
ISOJ continues on Friday, April 30. Follow along at isoj.org and on social media with #ISOJ2021. You can watch the panel in English here or in Spanish here.