Engaging with communities is non-negotiable for the survival of journalism, according to directors and strategists
More than ever, 2020 has been proof of concept into why every news organization or person thinking about journalism needs to have audience engagement as a core strategy. People want to be connected with trusted organizations to answer real life or death questions and engage in deeper conversations in their community.
The fact is, not engaging with our communities is non-negotiable at this point for the survival of the journalism industry, said Irving Washington, executive director and CEO of the Online News Association, as he led the second panel of day one during the International Symposium of Online Journalism (ISOJ).
Washington brought together five community management and audience engagement directors, strategists, and innovative journalists to join him for a discussion in which they shared how they connected with their audiences. The panel, "Community management and audience engagement: Turning the news into a conversation," took place on Monday April 26, 2021.
Ashley Alvarado, director of community engagement for Southern California Public Radio (KPCC + LAist), joined Washington in the panel discussion.
In her role, she often talks about how to close the gap between communities and the journalists who aim to serve them. That includes intentionally working to speak with audiences they've not traditionally served. This means thinking about story selection, and how the team frames stories, the language they use, and how they're distributing content.
Traditionally, journalists have been known for sitting around an editor's table, brainstorming and deciding what needs to be reported, and then letting people know what they think is important. As an organization, Alvarado said, they are really advocating for spending the time to investigate and meet information needs and readers.
Darryl Holliday, news lab director and co-founder of City Bureau, joined as the second speaker of this panel.
Holliday shared City Bureau's "Documenters," a participatory journalism network that is building a more equitable future for local media by training and paying people to engage in local accountability reporting. This has resulted in making civic processes more accessible and local decisions more accountable, he said.
One of his final points was that turning the news into a conversation should be about challenging who has the power to produce and distribute local information.
"I think that conversation can be had in ways that bring journalists closer to the public and literally bring more people into our local newsrooms," Holliday said.
What can be done when you're in the middle of one of the worst winter storms recorded in your state and there are not many places to get crucial information? Two months ago, during the Texas winter storm, The Texas Tribune launched a texting service to make it easier for people who were relying on their cellular phones to get the latest and most important news.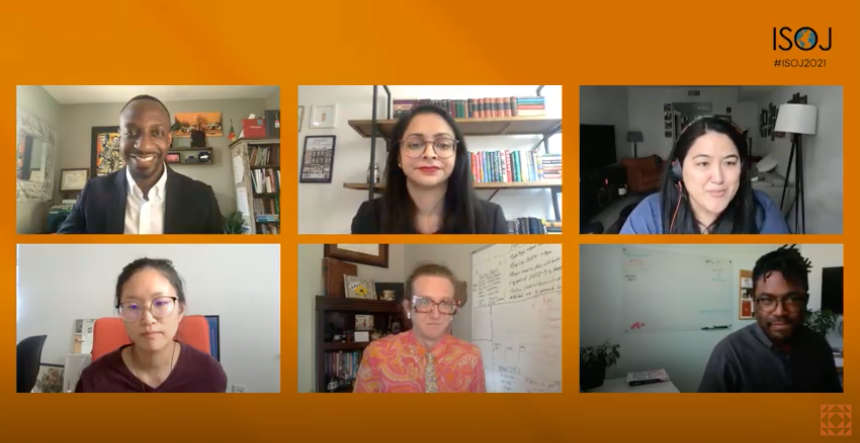 Bobby Blanchard, assistant director for audience at The Texas Tribune, shared the reason behind this launch and why it has continued past the aftermath of a winter storm that left millions without power and even more without reliable water access.
Nisha Chittal, director of audience and engagement for Vox Media, joined this panel discussion and shared different tools her team has used to engage with its audience. She dove into ways Vox Media has utilized audience callouts, especially during the coronavirus pandemic, to shape and inform its reporting and better serve its audience.
Annie Z. Yu, director of engagement for Politico, opened her presentation by comparing the accessibility of news at a local and national level and pointing out some challenges her team at Politico focused on when aiming to make national news more accessible. Yu presented several examples in which her team noticed the most positive audience engagement. One of them was a weekly Instagram TV series in which a reporter explained the biggest topic of confusion or contention for the week. This not only was a success in terms of traditional metrics, but also brought the most audience positive feedback.
ISOJ continues on Tuesday, April 27, and runs until Friday, April 30. Follow along at isoj.org and on social media with #ISOJ2021.