First ISOJ research journal announced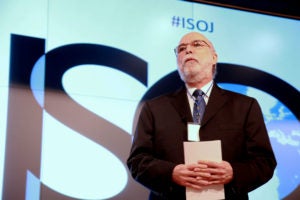 For the first time in the 12-year history of the International Symposium on Online Journalism (ISOJ), the research presented at the conference will be available in e-book and traditional printed form.
Rosental Alves, Knight Chair in Journalism and UNESCO Chair in Communication at the University of Texas at Austin, announced the ISOJ journal during his opening remarks Friday.
The inaugural journal is available online in e-book form and can be downloaded for $6. It is also available in print from the BookBrewer website for the same price.
The current journal edition features articles from past symposia, including papers by Nuno Vargas, Juliette de Maeyer on a variety of topics.
ISOJ 2011: Opening Session with Rosental Alves, from Knight Center on Vimeo.