Google-Knight Center Fellows present media projects during Ibero-American Colloquium for Digital Journalism
After the 15th International Symposium on Online Journalism (ISOJ), journalists from Latin America and the Iberian Peninsula got together on April 6 for the Seventh Ibero-American Colloquium on Online Journalism, at the University of Texas at Austin, to discuss the trends and issues brought up during the preceding conference.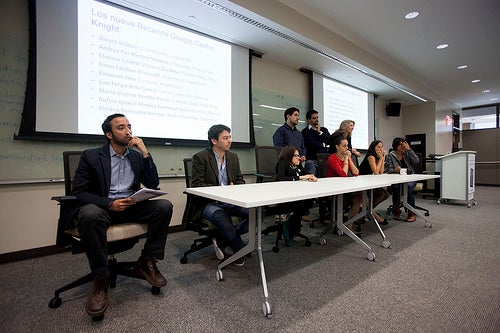 After the presentations of some of the most notable independent journalism initiatives in Latin America, journalist Janine Warner gave a special presentation where she gave advice on how to succeed as a media entrepreneur in the digital world. Warner is a media and digital media consultant and instructor of the Knight Center's recent Massive Open Online Course (MOOC) , "Development of Journalistic Projects for the Web."
Warner's presentation was followed by the nine Google-Knight Center Fellows, who received all-expenses-paid trips to come to ISOJ from Argentina, Chile, Peru, Mexico, Costa Rica and Colombia to present their digital media projects. The Fellows were selected based on the quality on the projects presented during the MOOC, which was offered to promote the creation of quality journalistic content in Spanish for the web.
The Fellows had two minutes each to deliver their "elevator pitches" and give a summary explanation of their projects. The Colloquium attendants, most of them professional journalists with experience launching media startups, offered advice to the recipients on how to improve their projects and presentations, like narrowing their websites' focus, aggregating content to broaden their potential audience, meeting with members of their target demographic and learning to highlight what differentiates them from others in their niche.
The presentations began with Alvaro Vildoza, a student from La Plata, Argentina, and co-creator of Transeuntes.net, a "journalistic, multimedia project focused on creative people's storytelling, travels and social experiences." Transeúntes looks for more in-depth and contextual coverage of issues, in addition to projects realized with multimedia tools. Additionally, they want to start a radio program that would also be available on podcast.
Another Fellow from Argentina was Emanuel Vilte, who created Linguoo, a mobile platform to consume news on the movie in an easy and accessible manner: by listening. The application, available in web or app format, would initially be available in English or Spanish, and Vilte hopes to be able to add Portuguese soon. Linguoo would offer journalistic works and information according to the user's activity. It would also offer crowdfunding services for journalists.
Rosental Alves, director del Centro Knight, habla con los becarios Darío Drucaroff, Luis Brito y Viviana Bermudez.Gabriel Cristóver Pérez/Knight Center.
The next project had a more specific demographic. Dario Drucaroff, also from Argentina, created Argenieros to create articles about engineering with a more personal voice.
Andra Medina created Integrados Chile as a news outlet with information on the social inclusion and empowerment of people with disabilities, those close to them and anyone who wants to know more about the issue. According to Medina, 12.9 percent of the population in Chile lives with some form of disability; 15 percent globally. The website features plain text to facilitate the use of software programs or readers people may use to read it.
From Peru came Clarissa Zavaleta, with Revista Focus, a digital magazine focused on business administration created by university students in Peru. Zavaleta said her team is regularly creating content, but they need financing for equipment, events, editing software and coding classes.
Viviana Herrera, from Colombia, came representing Radio Macondo, a local broadcaster with social and political shows, as well as opinion pieces and aggregated content. The news outlet is mainly radio, but since moving to an online site they publish written content as well, and they are looking to implement video features. They have local cultural programs as well as international, in the same way that the musicians are local and international. Radio Macondo broadcasts content going 24 hours a day. Their portal looks to tell stories of Latin America and how it's growing.
Costa Rican blogger Maria Virginia Portillo presented her project Comida Blog, a site with recipes and advice to show that eating and cooking in a healthy way can be easy.
"They aren't 'diets,' (the site) is about varied and moderate foods that helps to be healthy," said Portillo, adding that in Costa Rica 60 percent of the population is overweight or obese. Her website looks to promote smart choices in eating, lightening traditional recipes and having informative talks in addition to consultations and events. "People don't want to make drastic changes, but they do want to eat well with what's available," she said.
From Mexico came Luis Felipe Brito and Rufino Ignacio Medina Carrizosa, with Letras Explícitas and Igabe Noticias, respectively.
Letras Expíicitas is a project Brito formed to be able to spread the work of rock bands in Mexico, since he thinks the traditional media only focus on the mainstream bands. The site is a mix of journalism with interviews, in-depth pieces and profiles. In almost 18 months the site has received around 60,000 visits in Mexico, United States, Spain, Argentina and Colombia, and 160,000 page visits. Letras Explícitas looks to amplify their coverage by telling the story of the people behind the bands, while at the same time being a platform to share music and videos.
Medina is the creator of Igabe Noticias, a news site from the state of Oaxaca, Mexico, focused on covering the indigenous Mixteca population.