Google news executive warns that newsrooms have to proceed with caution as they dive further into evolving digital media environment
View the entirety of Gingras' speech here.
Google's global vice president of news warned that the current media environment stifles diversity of voices and in-depth journalism, but worries blanket regulations are not the answer.
In an almost poetic address, Richard Gingras' keynote speech at the International Symposium on Online Journalism (ISOJ) in Austin, Texas, brought attention to questions that he sees are important for journalists to ask themselves as newsrooms use more digital media and some of the troubling patterns he has observed in their adoption.
"I fear that the open internet is slipping away from us," Gingras said on Day 1 of ISOJ April 1. "That the 25 years of an internet enabling the ultimate model of free expression was an aberration."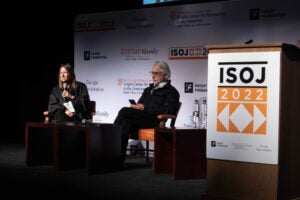 He was particularly concerned with the attempts to regulate free linking. Recently, Australia implemented a law that would require tech giants to pay newsrooms for using their content. Canada and Brazil are considering similar legislation. Gingras urged internet reporters to scrutinize such bills because he suspects there are other interests at play.
"They would prefer to see core concepts of free linking and fair use curtailed," Gingras said. "They may campaign with noble words, but the bottom line is a desire to maintain prior dominance to constrain the openness of the web to reduce the diversity of voice it enables."
Moderator Sue Cross, the executive director and CEO of the Institute for Nonprofit News, noted the millions in donations Google's Digital News Initiative (DNI) has given to her institute. She also questioned Gingras about the complex relationship between his clear concern with the future of journalism and how Google impacts newsroom profits.
DNI has supported nonprofit newsrooms, Cross said, but "DNI members are also part of the media trying to figure out how to navigate to survive Google search engine and so it's fair to say it's a complex relationship."
Gingras responded that they do listen to academic research and have a 160-page document which details Google News Policies, plus Google gives publications massive amounts of traffic.
"We are the largest newsstand on earth that obviously news publishers don't pay for, and distribution was 30% of the business model here," Gingras said. "So, to me, that's back to that same question: Are we crafting appropriate public policy, to respect and enable the openness of the internet and the diversity of the ecosystem?"
Gingras questioned the metrics newsrooms use to understand their audience. He said surface-level content might not be reaching the audience in the way that would help them or publish "news you can use." He said the Digital News Innovation fund is helping newsrooms ask what their communities want, need and will pay for.
"I asked publishers about the research they do," Gingras said. "In nearly every case the answer is not much or not. Or if we study our communities, we analyze our traffic. That says nothing about who doesn't visit. It says nothing about what they value."
Gingras also worried that our society is looking less like the utopia the pioneers of the internet imagined, and more like the dystopias portrayed by George Orwell and Aldous Huxley. While TikTok, YouTube and Twitter are important tools, he admitted, they could also dissuade the public from looking deeper into stories. He warned that journalists must be cautious about these media.
"Google will continue to experiment with storytelling tools in formats like web stories, to explore how they map to behaviors of contemporary users," Gringas said. "I love long reads, but when I encounter in my colleagues a high functioning, thoughtful person who doesn't read long articles disclaiming them as imposing walls of text, I hear a call to action."