Google tools can help journalists become more efficient, adept storytellers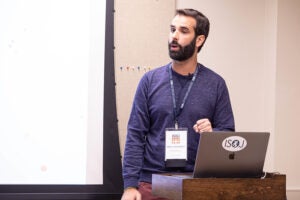 Google tools can help journalists more quickly and adeptly tell important stories in their communities, according to Marco Túlio Pires, a leader at the company's News Lab. 
During a Google News Initiative workshop at the 2022 International Symposium on Online Journalism (ISOJ), Pires walked through various tools and explained how journalists can use them to advance their reporting. 
Some of the tools are relatively new creations from the last few years. Meanwhile, others, like Google Earth, are programs that have existed for decades. Pires reminded journalists to not turn a blind eye to those older tools and showed innovative methods to tell current-day stories. 
As an example of how to use an older tool in a contemporary way, Pires showed how Google Earth, which was given a major update about two years ago, can tell visual stories on topics like gentrification and climate change. "It's beautiful. It's slick, and it's much better than the older one," Pires said. "The tools that were built into Google Earth are really special and will help you tell stories with maps in a beautiful way." 
An advanced feature of Google Earth is the ability to create timelapses. The tool has the capability to show changes in landscape over the last few decades. Visual storytelling like this is especially useful for reports on longer-term and grander-scale topics, such as deforestation in the Amazon forest in Brazil. "You can write 20,000 words, but just the timelapse in a few seconds can tell you way more," Pires said. 
A newer tool that Pires showed attendees was Pinpoint, which is a Google investigative tool that allows journalists to quickly explore a large number of documents. Reporters can upload PDFs, Word documents, slideshows, emails, images, and audio into a Pinpoint collection. The tool can then quickly search through the files and identify people, businesses and locations mentioned in the information. This allows journalists to find key takeaways while investigating or more immediately find context to add to a breaking news story. 
In addition to Google Earth and Pinpoint, Pires also gave journalists an introduction to machine learning. As an example, he showed how journalists can train machines to look through thousands of pictures to find outliers. Journalists, he said, can use the same method with documents as well. In 2019, the International Consortium of Investigative Journalists partnered with Quartz to create a machine learning model to search through 700,000 leaked documents known as the Luanda Leaks, saving journalists huge amounts of time, energy and manpower. 
Those interested in learning more about the Google News Initiative tools can find more information at: https://newsinitiative.withgoogle.com/training/. 
Sierra Juarez lives in Mexico City and is a freelance reporter and assistant editor at Texas Monthly.