Ibero-American Colloquium on Digital Journalism attracts nearly 1,500 people from Latin America, Spain and Portugal
For the first time, the 14th Ibero-American Colloquium on Digital Journalism, typically held in Spanish, was also heard in Portuguese. Thousands of viewers in Latin America, Spain and Portugal tuned in for the annual event.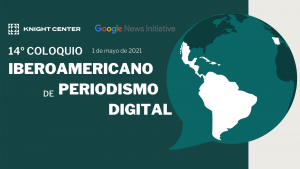 On May 1, the Knight Center for Journalism in the Americas hosted the event, which is traditionally held the day after the close of the International Symposium on Online Journalism, for conference registrants from Ibero-America. This year, 1,427 people from 47 countries registered for the colloquium, which was sponsored by Google News Initiative. Most registrants were from Brazil (321), Mexico (205) and Colombia (125).
On Zoom, the event drew 525 total users. It was also streamed in Spanish and Portuguese on YouTube. As of Tuesday, May 18, streams of the colloquium on the video platform had more than 2,600 views.
Thirty-three speakers from Latin America, Spain and Portugal spoke at the event, which included a keynote address from Javier Moreno, editor-in-chief of Spanish newspaper El País.
The six panels that followed addressed government harassment of journalists; transnational investigative journalism; financial sustainability; innovation; covering the COVID-19 pandemic; and exciting new digital journalism projects in the region.
We'd like to thank Google News Initiative for their sponsorship of the colloquium, as well as Steven Mines and his team of interpreters for making sure the event could be heard in both Spanish and Portuguese this year.
Below is a list of articles covering each panel from this year's colloquium, composed by the Knight Center's LatAm Journalism Review team.
If you joined us for the colloquium, thank you. If not, we hope you'll read these stories and watch the YouTube recordings of each session, available in Spanishand Portuguese.