Baron on Bezos ownership of the Washington Post: 'I don't think that we would have been a success without his involvement'
The recent accomplishments of The Washington Post are unlikely to be repeated elsewhere in the United States or worldwide, according to former executive editor Marty Baron, one of the most prominent American journalists. That's because the paper holds a unique position after being purchased in 2013 by multi-billionaire Jeff Bezos, Amazon's CEO and founder, who invested heavily in the news organization.
"He's been supportive of our journalistic mission and has never interfered with it. In fact, he has supported it quite publicly and it almost seems, and I don't mean to downplay it, like the NFL. Now let's find other great billionaire owners to take a role in journalism. There aren't enough billionaire owners who want to buy newspapers (…) and not all of them would be good owners just because you're a billionaire," Baron said during the last keynote session at the 2021 International Symposium on Online Journalism (ISOJ).
Since Bezos bought the Post, things improved a lot. With the infusion of capital,
staff increased from 580 to over 1,000 since 2013
. Digital subscriptions reached three
 million in 2020
, and the business, which had been suffering from the loss of advertising revenue in the wake of the 2008 financial crisis, has been profitable
 since 2016
.
From the editorial side, all these milestones had been accomplished under Baron's leadership, who joined the Post a few months before Bezos took it over and led it until February 2021, when he retired after a 45-year career. During Baron's tenure, the Post was awarded 10 Pulitzer prizes.
"My relationship with him [Bezos] was terrific. I think that he helped transform the Washington Post. I don't think that we would have been a success without his involvement here. He provided investment, he provided strategy, he provided good ideas, he was able to look at the industry in a fresh way that was different from pretty much any other owner or publisher I'd ever dealt with," Baron said, adding that Bezos never treated the newspaper as a charity, but as a business.
"We were able to take our profits and reinvest them in the company, and that made all the difference that ought to make, all the difference in the world. He obviously doesn't need the dividends," Baron said.
At the Post, the dividends that Bezos let go are very much appreciated, indeed. The former Washington Post's executive editor, however, knows that it isn't the case for many news outlets in the United States or in the world. Not only because they don't have a seemingly altruistic billionaire owner, but because they struggle to identify and maintain revenue sources to properly sustain their operations and staff. Making strategic investments in technology and staff to make it a national publication was a decisive move driven by Bezos, according to Baron.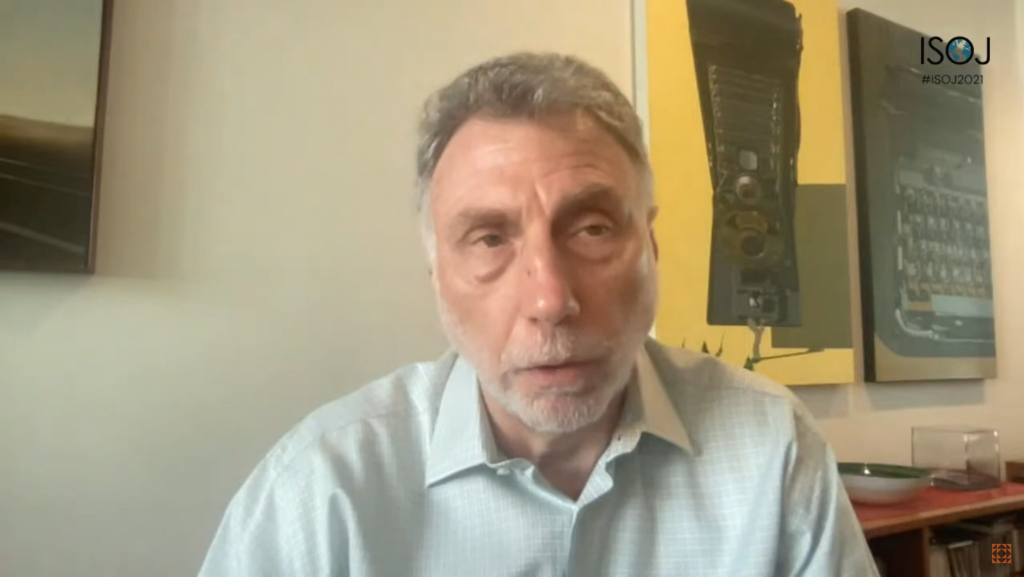 "The advertising market simply doesn't pay the bills and even less so because ad rates tend to go down and because the volume of advertising is drying up because so much of it is going to the tech platforms," he said. "We need to earn revenue somewhere in order to pay people and where we need to earn it is from subscribers."
Shifting towards being a national publication increased the Post's ability to reach a wider audience, to the point that the newspaper was able to tighten its paywall over the years, thus having a bigger impact on the newspaper's balance sheet.
"We need to get people to recognize that news and information can no longer be free, that you have to pay for that in the same way that you pay for a bottle of water or for a cup of coffee or anything else. For that matter, there's no reason that we should be free and everything else. Everybody should pay for it and so we force people to pay for it," Baron said.
"The reality is there's no other option [than a paywall] because if you want to pay for a reporting staff, a staff of copyeditors, a staff of editors, of any type photographers, videographers, graphics artists, animators, whatever, then you need income coming in and so we need to depend on the subscriber to pay for it," Baron said.
Baron's keynote session during ISOJ 2021 was chaired by Kathleen McElroy, director of the School of Journalism and Media, UT Austin. The full recording of it is available on YouTube, as well as all other sessions of the event, both in English or Spanish.