In polarized environments, media should reach out to their audiences and work collaboratively
Watch video from this panel from ISOJ 2019.
In polarized societies that are also home to authoritarian or populist governments, journalists and media outlets in the country must work together and avoid falling into a narrative of hate coming from officials.
This is one of the main lessons shared by the journalists on the panel "Global roundup: Journalism in the age of authoritarians, populists and polarization," during the second day of the 20th International Symposium on Online Journalism (ISOJ), which took place on April 12 and 13 at the University of Texas at Austin.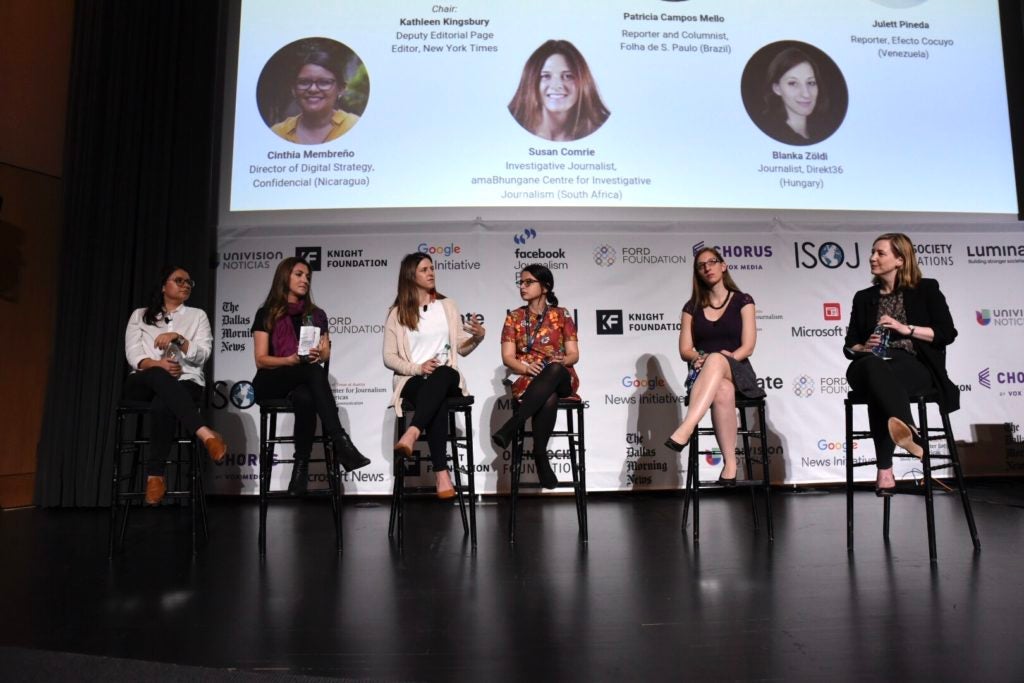 Cinthia Membreño, director of digital strategy for the independent site Confidencial, of Nicaragua, opened the conversation. The journalist told the audience that the government of the current president of her country, Daniel Ortega, is characterized by imposing a policy of fear and has become a threat to freedom of expression.
The Nicaraguan journalist related the manner in which the Confidencial offices were raided by the police on Dec. 14, 2018 and later seized by the government.
Membreño recalled a quote from the site's director, Carlos Fernando Chamorro, after losing access to their offices: "They can steal all the computers in the world they want, all the television equipment they want but they are not preventing reporters from doing our jobs."
That was the comment that Chamorro said in an interview with the journalist from the independent outlet 100% Noticias, Lucía Pineda, who along with the channel's director, Miguel Mora, was imprisoned for her journalistic work a few days later, on Dec. 21.
Ortega does not give press conferences or interviews, there is no access to public information and journalists are affected by harassment and repression, Membreño explained.
Chamorro, Membreño and about 60 Nicaraguan journalists have been forced to leave the country in recent months for security reasons.
Today, many Nicaraguan journalists and media report from exile and collaboratively with their colleagues from other media.
During her presentation, Venezuelan journalist Julett Pineda from the independent digital site Efecto Cocuyo began with the following question: "What's it like to be a journalist in Venezuela? It can be really troublesome, especially if there's a blackout and there's no running water to take a shower."
The journalist described the difficult situation of reporting in a hospital where adequate medical care is limited, as is access to hospitals for journalists.
"These authoritarian traits and features from the government do not only affect us journalists, it also affects our sources. People are afraid to speak because they might get blackmailed," Pineda said.
The situation worsens in a polarized environment, the journalist continued.
"Authoritarian governments have this script. They tell you, you are either with me or against me," Pineda explained.
This polarization resulting from the government's narrative contaminates other spaces such as social networks, Pineda said, platforms in which several users constantly attack journalists and independent media.
According to Pineda, this aversion is nourished by the government. The journalist showed a video in which the second most powerful man in the government, Diosdado Cabello, president of the Constituent Assembly of Venezuela, talks about the founder and director of Efecto Cocuyo, Luz Mely Reyes, calling her "the queen of 'fake news.'"
According to Pineda, the situation of journalists in her country has worsened even further in 2019, due to the polarization that exists. According to a study by the Press and Society Institute (IPYS) Venezuela, during 2018 there were 266 cases of violation of freedom of expression in Venezuela, while between January and mid-March of 2019 there were 155 cases.
This would have been accentuated in March of this year, when the Venezuelan organization documented 50 aggressions against journalists just in the first 18 days of March.
Journalist and opinion columnist of the Brazilian newspaper Folha de S. Paulo, Patricia Campos Mello, highlighted the way in which social networks, mainly WhatsApp, were used to manipulate public opinion with false news and bots during the 2018 elections in which the populist President Jair Bolsonaro was elected.
Campos Mello said that Folha de S. Paulo gave wide coverage to the background of then-candidate Bolsonaro, investigating his wealth. They, according to the journalist, found that his wealth was not compatible with his financial income of recent years.
Folha de S. Paulo, one of the largest newspapers in Brazil, is constantly attacked by the new president. He has openly called them the greatest producers of "fake news."
Campos Mello said that Brazilian journalists thought that these attacks on the press by Bolsonaro and his followers were only his campaign rhetoric. However, in one of his first television interviews as president, on TV Globo, Bolsonaro again attacked the press, mainly Folha.
"This was unprecedented in several manners. Never had a president gone on the main news show of the country to say that a newspaper would cease to exist," the journalist said.
One of the effects of these direct aggressions, Campos Mellos said, is that Folha's base of subscribers has increased considerably, in "solidarity."
And one of the lessons learned by Folha, according to the journalist, has been that the philosophy of the newspaper is to continue doing what they know how to do, not as opponents, but as an independent journalistic publication, without being intimidated.
In South Africa, they also chose to respond with more and better journalism in 2017, when sources who remained anonymous revealed alleged acts of corruption by a prominent family in the country with ties to Prime Minister Jacob Zuma and his family, said Susan Comrie, investigative journalist from the site amaBhungane, based in Johannesburg.
Collaboratively, different South African journalistic media joined to process and publish all the data received, under the name #GuptaLeaks.
"It didn't just allow us to hold politicians to account, there were a number of multinational companies that were implicated in the GuptaLeaks as well as in various other leaks that came out at the same time," Comrie said.  As a consequence, there were many smear campaigns on social media against the journalistic work that they combatted using more information.
Blanka Zöldi, from Hungary, a journalist for the investigative journalism site Direkt36 said at ISOJ: "If you look at Hungary, we don't have any journalists killed, we don't have any journalists imprisoned, we are not getting threatened direclty and we don't have direct censorship."
However, she emphasized, the situation that has been created in recent years in her country, since Prime Minister Viktor Orban took power in 2010, is characterized by a lack of information plurality and self-censorship.
After a crackdown on the private media outlet she used to work at, her colleagues formed their own newspaper focused on long-term investigations.
"We realized that if we want to do independent journalism, we want to have a completely independent organization. Independent from politicians, independent from owners and also independent from advertising revenues," she concluded.
To overcome difficulties presented by the current media environment, she said, her organization has created a community of readers, they work hard as journalists and strive to interest people in what they publish.