International journalists to discuss their creative solutions for working in adverse media environments
Being creative is one thing many reporters are capable of, especially international journalists who are determined to overcome financial and political barriers preventing them from doing their jobs: keeping citizens informed.
A panel at the 17th International Symposium on Online Journalism(ISOJ) featuring six journalists from around the world will gather in Austin, Texas on Saturday, April 16 to discuss the topic: "Creative solutions for online journalism challenges around the world."
The panel, chaired by Maria Teresa Ronderos, Colombian journalist and director of the Program on Independent Journalism at the Open Society Foundations, will take place from 2:30 to 4:15 p.m. in the Blanton Museum of Art on the campus of the University of Texas at Austin.
Recognizing a lack of coverage of the Nubar Mountains region of Sudan, where men, women and children fled to avoid government bombing by air, freelance photographer Trevor Snapp and Ryan Boyette, a humanitarian worker, employed crowdfunding to launch the website Nuba Reports in 2012.
Nubar Reports employs four "lead reporters" who work with local journalists to cover the conflict in Sudan, producing coverage for their website and many international news organizations, such as BBC, CNN, Al Jazeera, France 24, Reuters, Associated Press and The New York Times. The organization also keeps non-governmental organizations and advocacy groups informed about events in the region.
But balancing reporters' security while also balancing the books is something Snapp, the director of programs, knows all too well.
"This is dangerous work," Snapp told the Committee to Protect Journalists (CPJ) in April 2015. "You can't compromise things like security. You can't just say, 'Sorry, no funds for digital security this month.'"
Regarding the successful crowdfunding effort that helped Nubar Reports get off the ground, Snapp told the CPJ that "people's generosity was critical to making all this possible, and it showed that people in the U.S. cared about this faraway conflict, which was inspiring."
A great example of being creative to continue reporting is embodied by Russian journalist Galina Timchenko.
The executive editor of Meduza, based in Riga, Latvia, was one of many high-profile journalists fired during a crackdown by the Russian government on independent media in March 2015.
Timchenko didn't quit, she just relocated to the Latvian capital to keep reporting on Russia and was joined by more than 20 colleagues who quit in support of her firingfrom Lenta.ru, a popular Russian news site.
Privately funded, Timchenko told Reuters "media is a low-margin business" and she believes Meduza will attain "self-sufficiency by the end of 2017. If we reach self-sufficiency then it will be a success."
Other international journalists coming to ISOJ to share their creative experiences include:
Andrei Dynko, editor of Nasha Niva, the first newspaper in Belarus, established in 1906
Enock Nyariki, an editor for HiviSasa.com, which encourages local citizens to cover important news, events and politics in 10 Kenyan counties, such as the Kisumu County News
Kelly G. Niknejad, editor-in-chief of the Tehran Bureau, an independent news organization hosted by The Guardian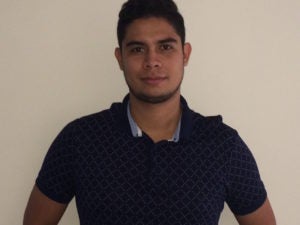 Carlos Salamanca, business and administration manager at El Faro, an investigative news website in El Salvador
Not only known for offering an eclectic mix of professional journalists and academics, the ISOJ is also popular internationally, attracting attendees from 41 countries.
The 17th annual ISOJ will take place April 15 and 16 at the Blanton Museum of Art on the campus of the University of Texas at Austin. Registration is full, but live streaming video will be available at online.journalism.utexas.edu.