International Newsrooms and Their Relationship with New Media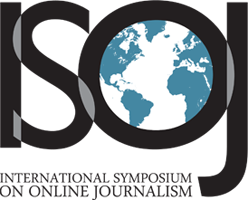 As news companies face continuous losses in readership and advertising revenues, one question remains on the tip of everyone's tongue: will the rise of the Internet determine the fall of print media?
Four journalists from around the globe responded to this question and offered their views on the future of traditional newspapers during the final afternoon panel Friday at the 8th annual International Symposium on Online Journalism.
While U.S. news organizations have widely adopted an approach of convergence to counter threats of survival posed by the Internet, the panelists discussed how news companies from other nations are responding to the digital revolution.
Jean-François Fogel, French journalist for Le Monde Interactif, emphasized innovation over convergence and suggested that newsrooms should try to develop their online ventures independently from print.
"Le Monde is trying to face the future, and so far the Web and the paper are two different businesses," Fogel said.
Ismael Nafría, Content Deputy Director of El.Pais.com in Spain, also voiced concerns over the convergence of newsrooms and stressed that news organizations need to recognize the Internet as a constantly evolving medium with goals distinct from the traditional media.
To survive, news organizations must understand the demands of a new audience and be able to distribute information in a variety of formats. To do that, newsrooms should focus on coordination and collaboration as opposed to integration, Nafría said.
In comparison, Brazil's largest content portal, UOL, operates under a completely different business model more similar to that of MSN or Yahoo.
Unlike news sites like NYTimes.com, UOL is an Internet service provider. While news is the central focus of its conent, revenue is based on content services, subscriptions, online advertising and brand links. It also profits from sales of products including MP3s and games.
"Brazil has a different reality from the US, a different Internet environment," UOL editor Rodrigo Flores said.
Flores substituted Marion Strecker, co-founder and content director of UOL, who was unable to attend the symposium.
When considering the impact of new technologies on journalism, Juanita León, Editor-in-Chief for Semana.com in Colombia, sees the Internet as a lab for new ways of storytelling as well as a platform to bring people together.
Semana.com has implemented several interactive features that promote community participation including live online chats with Colombian paramilitary and guerilla leaders, like Salvatore Mancuso, and online tests that determine which political candidate a user should vote for.
The panelists presented distinct cultural perspectives in their approach to new media, but each participant agreed that new developments in journalism provide the opportunity for newspapers to get in more touch with their readers – especially younger audiences.
But the future of traditional media remains to be seen as news organizations continue to accommodate to a new type of journalism.
"The Web is still an ongoing war of innovations," Fogel said. "What we are doing now is not going to be the same in six months."
ISOJ 2007: The Transformation of Journalism on a Flat World, from Knight Center on Vimeo.