International Symposium on Online Journalism Concludes, Conversation Continues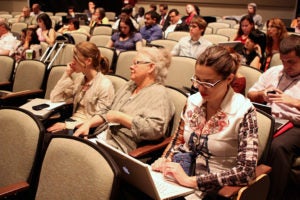 More than 270 journalists, scholars and media executives from around the globe – including, Australia, Belgium, Canada, Egypt Japan, Norway, South Africa, United Kingdom, Uganda and 12 Latin American countries – participated April 23-24, 2010, in the 11th International Symposium on Online Journalism, co-sponsored by the Knight Center for Journalism in the Americas.
There was a record turnout for this year's event that was held in a new venue at the AT&T Conference Center Amphitheater on the University of Texas at Austin campus.
To see and join the ongoing conversation from the symposium, check out the twitter feed via searching the hashtag #isoj. Videos, transcripts, and presentations will be posted soon on the website.
The annual Symposium has been organized since 1999 by Professor Rosental C. Alves, the Knight Chair in International Journalism and UNESCO Chair in Communication, with support from UT Austin's College of Communication and School of Journalism.