Internet's Role in Democratization of News in China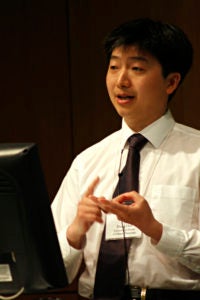 From the University of Illinois at Urbana-Champaign, Dong Han presented his research paper "State Policy and News Websites in China" during the 10th International Symposium on Online Journalism.
"They want to boost internet for the economy but at the same time control content," he said.
The core of the state regulation is licensing, or who can set up a news website. For people in the government it's easy and even encouraged. But for people that wanted to establish big commercial websites they can, those that want to drive traffic, as long as their content is controlled.
The biggest news websites in China are sina.com and people's net, yet they are controlled by the government "to insist on correct guidance of public opinion," he said.
In conclusion, the popular news sites controlled by the state disseminate propaganda to the citizens and there is not an independent source on political news. Which means that internet is not acting as a democratizing force for news in China.
ISOJ 2009: Reading Between the Lines panel, from Knight Center on Vimeo.