Readers' Comments as Productive Participation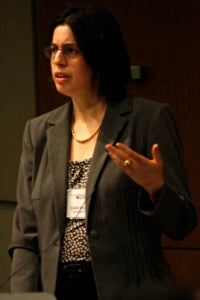 Edith Manosevitch, a researcher from the Kettering Foundation, discussed her research paper "Readers' Comments to Online Editorials as a Space of Public Deliberation." She touched on the research that has been done before on UGC and the potential of online media. But she noted that there a scarcity of work on analysis of the content: does it manifest productive participation?
There's much quantitative work not but not enough qualitative, especially on readers' comments.
She discussed the mission of editorials as an outlet for healthy reasoning and communication during this year's ISOJ.
"Reader's comments on the online format have a potential to really fulfill this mission," she said. "Are people really getting to communicate with each other?"
The research was based on TCPalm.com and DesMoinesRegister.com… for one week they analyzed readers comments, one by one, under a 9 deliberation criteria.
Examples of the criteria they used are one was whether the narrative includes something related to experience, or fact, or whether the person that put the post linked to other sources, or providing additional information, values, position, reasons.
Our data show that both social and analytic connections were happening within the comments.
"Looking through the threat, we noticed that throughout the threads people were commenting back and forth within a conversation," she said.
So there's a nature of people having a conversation, not shooting out comments like parachutes without coming back and following up. She also mentioned the importance of a site's design to encourage user participation.
"How you design your platform really makes a difference as to what you get out of it," she said.
She concluded with the thought that readers' comments, may fulfill the financial needs of a journalism outlet, but at the same time it also is an opportunity to include more voices, more people and more productive participation.
ISOJ 2009: Reading Between the Lines panel, from Knight Center on Vimeo.