ISOJ 2021 farewell virtual party will be hosted by the Moody College of Communication at the University of Texas at Austin
The Moody College of Communication at the University of Texas at Austin will host the virtual farewell party for the 22nd International Symposium on Online Journalism, a premier online journalism global conference organized by the Knight Center for Journalism in the Americas.
For the second time, ISOJ will be held completely virtually from April 26-30, 2021. Registration for ISOJ Online 2021 is now available for free at https://isoj2021.splashthat.com/w. Similar to last year, the program will spread from Monday to Friday, and each day's activities will start with a keynote speaker, followed by a workshop, two panels, and entertainment to celebrate the opening and closing days.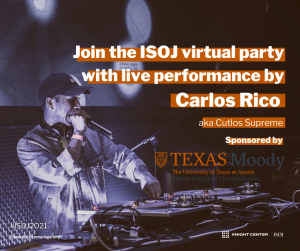 Even in its online version, ISOJ will open space for social events, as it has traditionally done in Austin during the in-person conference for over two decades. So ISOJers can meet each other in virtual parties as they did in Austin in the past.
The farewell party, hosted by the Moody College, will be held on Friday, April 30, from 5:30 p.m. to 7 p.m. CST, on the platform Shindig. The link to access the party will be provided to conference attendees, along with tips on how to use the platform. Shindig allows participants to "run into" each other and start conversations on video. It provides a virtual stage as well, where artistic performance, presentations and announcements can be seen by all participants in the party.
There will be opportunities to mingle and reconnect with fellow ISOJers, and to enjoy a live performance by Carlos Rico aka DJ Cutlos Supreme, a DJ and Multimedia Journalist. Rico brings a unique flavor to mixing, where his performances involve music from all genres including Nu Disco, Top 40, Hip-Hop, Old School, Mash-ups, Dancehall, and Latin music. You can watch some of his performances on his youtube page.
"Digital media has transformed the world of journalism and how stories are told. ISOJ has been and continues to be a leader in education and knowledge creation for thousands of journalists across the globe in this space," said Jay Bernhardt, Dean of the Moody College of Communication. "We are proud of the work done by the Knight Center for Journalism in the Americas and pleased to support the farewell celebration for this great event."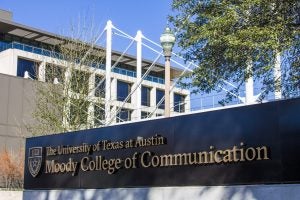 "The Moody College of Communication and its School of Journalism and Media have always supported ISOJ, since I started this annual conference 22 years ago. I am delighted that this year we will have 'Moody party,' a social event at ISOJ Online, hosted by my college, bringing the flavor of Austin and UT campus to the virtual, interactive and fun space created online by Shindig," said professor Rosental Alves, Knight Center's director. "ISOJers will have an opportunity to relax and have fun at the end of a busy week of a great conference."
Additional updates for ISOJ Online 2021 are available on Twitter, Facebook, and LinkedIn.
ISOJ 2021 is free, but the Knight Center for Journalism in the Americas at University of Texas at Austin accepts donations to ensure that it can continue offering free access to a diversity of free training programs for journalists. In addition to ISOJ, the Knight Center offers the Iberian American Colloquium on Digital Journalism (a conference in Spanish the day after ISOJ) and many online courses, including MOOCs that are open for all journalists and anyone interested in journalism. It also publishes LatAm Journalism Review, a trilingual digital magazine. If you would like to support the Knight Center, please click here.
About the Moody College:
The Moody College of Communication believes in people, their individual talent and collective power to change the world. Undergraduate and graduate students, numbering nearly 5,000, examine and study communication as the vital force it is, pursuing higher education disciplines in advertising and public relations; communication and leadership; speech, language, and hearing sciences; communication studies; journalism and radio-television-film. Guided by a team of faculty, which includes innovative researchers and real-world practitioners, students flourish into thinkers, leaders and most of all, doers who are equipped to join a worldwide alumni network of award-winning filmmakers and journalists, entrepreneurs and executives, researchers and clinicians.