ISOJ 2023 reaches more than 1,100 participants from around the world to discuss the present and future of online journalism
The International Symposium on Online Journalism (ISOJ) celebrated 24 years of conversations and research into online journalism with a truly hybrid conference that attracted more than 1,100 people from around the globe.
ISOJ 2023 took place from April 14 to 15 at the AT&T Hotel and Conference Center on the University of Texas at Austin campus. The major sponsors of the conference were Knight Foundation and Google News Initiative. ISOJ was also supported by UT's Moody College of Communication, Univision Noticias, Newspack by Automattic, and the Content Authenticity Initiative.
ISOJ featured 76 speakers from 18 countries and 20 hours of programming! That's 23 sessions, including 10 panels, four keynote presentations and six workshops.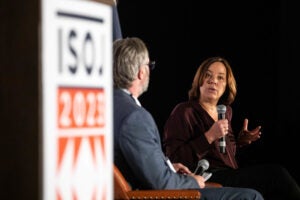 ISOJ 2023 featured keynote speakers, including: Joseph Kahn, executive editor at The New York Times; Janelle Rodriguez, executive vice president, NBC News; Jon Kelly, co-founder and editor-in-chief of Puck; and Yusuf Omar, co-founder of Seen.tv (based in Australia and several other countries).
At least 380 people from 29 countries were in attendance in Austin, while 809 virtual registrants representing 89 countries were able to attend online. The conference offered more than simple video streaming, allowing for more engagement of remote attendees.
ISOJ began in 1999 and has been organized by the Knight Center for Journalism in the Americas at UT Austin's Moody College of Communication. The goal of this annual conference is to discuss the impact of the digital revolution on journalism. ISOJ bridges the gap between academia and the news industry with the participation of journalists, media executives and scholars from around the world.
During ISOJ 2023, speakers addressed topics like the impact of generative artificial intelligence on journalism, sustainability of local news, covering the climate crisis, reporting from exile, building successful journalism business models, combating misinformation, and more.
For the ninth year, ISOJ featured simultaneous interpretation to Spanish, thanks to support from Univision Noticias. This allows for increased participation by attendees from Spanish-speaking countries.
ISOJ 2023 was a truly hybrid conference. In addition to the traditional live video streaming of panels and workshops, there were Meet and Greet sessions to give remote attendees opportunities to have direct conversations with speakers, via video-conference.
Remote attendees also had a chance to talk to each other through Shindig, a virtual conference platform, which gave them the capability of creating video-chat rooms, replicating the networking experience of an in-person conference in the virtual environment.
The recordings of individual sessions of ISOJ were quickly edited and posted on YouTube as another perk for remote attendees of the conference. This new feature of ISOJ helped remote attendees who could not watch the sessions live, but wanted to catch up on the same day. This was especially important, considering that there were remote attendees from all time zones around the world.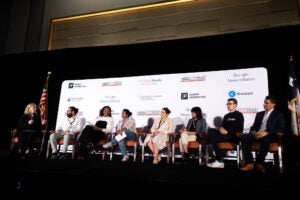 ISOJ also recognizes and pioneers research in online journalism as the conference coincides with the publication of #ISOJ, the official research journal for the symposium. It features peer-reviewed articles based on original research into online journalism. Authors selected in a competitive blind review process are invited to present their findings at the symposium during a special research panel. The top paper award for ISOJ 2023 went to authors Ayleen Cabas-Mijares, Joy Jenkins and Laura Nootbaar for their paper "'News you can use': Pragmatic solidarity as a news value in online community journalism."
In addition to the main programming of ISOJ, the Knight Center organized the pre-conference event "The Crisis of Rural Journalism in America," which featured a screening of the documentary "For the Record" and a panel discussion on the topic. The pre-ISOJ event was sponsored by the Rural Journalism Pipeline Project at UT Austin's IC2 Institute and the Moody College School of Journalism and Media.
And per tradition, the 16th Ibero-American Colloquium on Digital Journalism took place on the Sunday following ISOJ, attracting about 50 in-person attendees from Latin America, Spain, Portugal, and the U.S. It also garnered 500 unique viewers online. This annual meeting discusses press freedom and innovation in online journalism in the region.
View photo galleries and the News Section of ISOJ.org for more highlights from and coverage of ISOJ 2023. You can also find coverage of the symposium and colloquium in Spanishand Portuguese at LatAmJournalismReview.org.