Jarvis Stresses Cooperation Among Media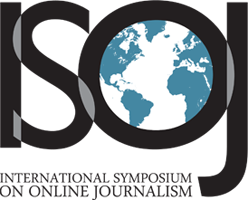 Jeff Jarvis started the first day of the International Symposium on Online Journalism with a keynote speech emphasizing cooperation among competitors in the media, suggesting such radical ideas as sending readers to other papers and nixing bylines, newsrooms and journalists' egos.
It's understandable that Jarvis is a self-proclaimed "cock-eyed optimist" when it comes to the future of journalism. He has a leading blog at buzzmachine.com and serves as associate professor and director of the interactive journalism program at the City University of New York's new Graduate School of Journalism and as a consultant for news companies.
When asked how he introduces himself, Jarvis confessed that he likes to refer to himself as a blogger, much to his Dean's dismay.
"Blogging is what's teaching me the most," he said.
Jarvis began his discussion on journalism's future days ago when he asked his readers for input on his blog.
"I'd like your help," he blogged. "Tell me why you're optimistic about news: what we can do now that we couldn't do before, where you see growth, where you see new opportunities."
He said it's wrong to define journalism by who does it, and suggested that we stop using the term "citizen journalism." Instead, he offered "networked journalism."
Here's Jarvis' new rule: "Do what we do best and link the rest."
"We'll die not trying — we've got to try things," he said.
Jarvis brought up criticism given to The New York Times for not matching the Walter Reed Medical Center story The Washington Post was covering.
"Why would they replicate the results as if it was a peer-review science experiement?
Why not send readers to The Washington Post?" he said.
Jarvis asked Jim Brady, executive editor of washingtonpost.comif he would send readers to The New York Times. Brady said yes.
An ideal of meritocracy should drive journalism, Jarvis said. This is not to suggest that everybody is equal, but that those who rise have merit. It's up to every individual reader to judge who rises to the top.
"People see one bad thing on the internet and say, 'See? It's all crap!'" Jarvis said.
But just because some people post content that can be best described as "crap" doesn't mean that nothing out there is worthy of reading, he said.
"I pick what I think is good and ignore what's bad."
Jarvis ended his keynote speech suggesting a new, loose network of journalism which will encourage extensive content and coverage.
"More reporting: that's the goal," he said.
ISOJ 2007: Jeff Jarvis (Keynote), from Knight Center on Vimeo.