Journalists and Scholars Gather in Austin to Discuss Online Journalism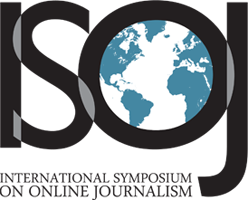 A worldwide gathering of distinguished online journalists and multimedia scholars will debate emerging trends in the electronic media industry at the fifth International Symposium on Online Journalism April 16 and 17 at the University of Texas at Austin School of Journalism.
The event, organized and sponsored by the Knight Chair in Journalism, will be webcast live on the Internet. The video streaming link and real time news coverage will be available.
"The symposium is a good opportunity for cross-fertilization of ideas and trends," said Rosental Calmon Alves, professor and Knight Chair in Journalism, who has organized this conference since 1999. "The idea is to breach the gap between academic approaches and industry professionals. Both sides benefit from it."
Though the symposium has been a one-day event and focused almost exclusively on the perspective from the industry, this year's will feature an additional day, April 17, dedicated to academic research and scholarly panels. Topics will include: "Research on Online Journalism," "The State of Blog Journalism," and "Reconsidering Journalism and Its Effects on a Wired World."
Alves explained that an international academic audience was invited to submit scholarly research papers for the symposium. In the end, 10 papers were selected in a blind review process coordinated by UT Austin assistant professor of journalism Mark Tremayne, who coordinated the academic aspect of the symposium.
The papers will be presented and discussed with the small audience of professionals, students and faculty in Austin, but the audience from other universities around the world will be able to participate through the live webcast. Questions and commentaries from remote participants can be sent by email.
Papers include "Wikipedia as participatory journalism: Reliable sources?" by Andrew Lih, assistant professor at Hong Kong University; "You've got news: A permission-marketing model using sponsored electronic newsletters," by Anca C. Micu, graduate student, and Clyde H. Bentley, associate professor at the University of Missouri at Columbia, and "Blog, blog, blog: Web log learning experience in journalism classes," by Eric M. Wiltse, senior journalism lecturer at the University of Wyoming.
The top-ranked paper was "Examining the Media Agenda: a comparison of the way traditional and online media presented the 2000 and 2004 presidential primaries," by Donica Mensing, assistant professor, University of Nevada-Reno.
Staying with its origins as an industry-oriented gathering, the symposium will also feature panel discussions led by top online journalists from around the world. These discussions will take place on April 16.
Participants from the industry include Doug Feaver, executive editor of WashingtonPost.com and president of the Online News Association; William Gruenskin, managing editor of The Wall Street Journal Online; Naka Nathaniel, NYTimes.com multimedia editor; Michael Silberman, MSNBC.com East Coast managing editor; Gary Kebbel, news director for America Online; John Granatino, vice president of news and operations for Belo Interactive; Nancy Regent, vice president and managing editor of Hoovers.com.
Panelists from abroad include Guillermo Franco, editor of ElTiempo.com in Bogota, Colombia; Makoto Ota, staff writer for Web edition of The Yomiuri Shimbun in Tokyo, Japan; and professors Manuel Gago, from the University of Santiago de Compostela, Spain; and Ari Heinonen, of the University of Tampere, Finland.
In addition, the symposium will feature two keynote speakers. Roger Fidler, director of the Institute for Cyberinformation and professor of journalism and mass communications at Kent State University, will deliver on April 16 the keynote speech entitled "Digital newspaper: Where do we go from here?" And Madanmohan Rao, a media consultant, author and editor of The Asia-Pacific Internet Handbook based in Bangalore, India, will be the Keynote speaker April 17.
Started in 1999, the symposium was originally designed as an interactive space for industry professionals to discuss the state of online journalism. As Alves explained, the symposium was then expanded last year to include international panelists and an Intenet audience and will now include online journalism scholars.
"The symposium has been very successful in attracting international people and helping explore new trends in online journalism," Alves said.