Editor Argues that Online News is Already Indispensable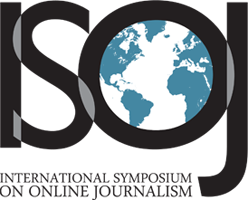 For Charlotte-Anne Lucas, content director of MySanAntonio.com, the events of Sept. 11 proved to her that online journalism had become indispensable. At the time, she was managing editor at The Street.com, a financial news and commentary website.
"We had 800,000 users before 9-11," she said during the fifth annual International Symposium on Online Journalism. "The next day we had 1.5 million users visit the site."
It was a good example of how big news means big numbers for online journalism.
Connecting troops in Iraq to their hometown of San Antonio is another example of the crucial role of online journalism, Lucas said. Anticipating their return home to San Antonio after a year in Iraq, the 217th Transportation Company reserve unit in Iraq contacted Lucas. Through e-mail they sent pictures of their trucks painted with the slogan "Hope to make it home by Fiesta" (an annual April celebration).
"We created a slide show that we put on MySanAntonio.com, and they were able to log on and see it," she said. "For the troops being able to check MySanAntonio.com was an indispensable link to their home."
MySanAntonio.com is a 24/7 online site with only seven editors. In the case of Saddam Hussein's recent capture, Lucas got the information from Baghdad and by 8:30 a.m. a complete package with photos from CBS was already online while print editions were still in production.
ISOJ 2004: Online News Status, from Knight Center on Vimeo.