Mobile News: How journalism is adapting to the new tablet computers, e-readers and smartphones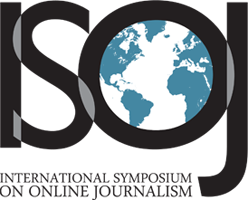 Joshua Benton loves his iPad. And Alfred Hermida has one. Anyway, onto the panel! Journalism on mobile devices is a fascinating topic. Benton said that BlackBerry users still dominate over iPhone users, but that iPhone users use the internet much more than BlackBerry users. And, not surprisingly, iPhone users dominate the use of apps. The iPad is beginning to look into it as well, however.
Benton said the big issues are how to format journalistic content on mobile devices, and how do you change the effectiveness of the mobile advertising platform.
"Are people going to be willing to pay for things on an iPad or a smartphone that they're not willing to pay for on the web?" Benton asked. "The Times hasn't made the announcement yet, but it looks like they're price will be $10-$30 per month."
Benton claimed skepticism about whether the iPad and tablet readers would change passive news consumers into people willing to pay lots of money for their apps. But he did say he thinks they'll present a great way to create immersive experiences and recapture the minds of people everywhere.
The first presenter during the panel was John-Henry Barac, digital designer and consultant to the Guardian (UK) for their iPhone app. Ironically enough, his presentation was delayed by technical difficulties. He was sent back to the table to be replaced with an iPad presentation, which was also delayed. Onward we moved to Dan Treinish, director of content acquisition and and business development at Skiff. Later this year, the company will begin distributing a wide range of papers, magazines, and other publications to mobile devices.
"Our feeling is that you should be able to read whatever you want to read whenever you want to read it, but not sacrifice because you're on a mobile device," Treinish said.
Skiff was started around three years ago by Hearst, the company that publishes, among other things Esquire magazine. The plan is to collect a number of people migrating from print to ereaders (the assumption is 10% to 33% of the decline in print over time), and generate 50% of all revenue from new subscribers. Treinish stressed the importance of authenticity, and translating publications as true as possible to the e-readers, but with the added features and benefits of the devices to give the product a unique feel still.
ISOJ 2010: Mobile News – How journalism is adapting to the new tablet computers, e-readers and smartphones, from Knight Center on Vimeo.