NBC News executive opens ISOJ with discussion of challenges and opportunities facing network TV in the age of streaming and artificial intelligence
View video of the session here.
The 24th International Symposium on Online Journalism (ISOJ) officially kicked off with a conversation about the challenges and opportunities facing network TV industries in the age of streaming and artificial intelligence.
Janelle Rodriguez, executive vice-president of programming at NBC News, and David Ryfe, director of the School of Journalism and Media at the University of Texas at Austin, headlined the opening session titled "The future of news is NOW: Adapting news to the streaming age."
The conversation began with two fundamental questions: How to do good quality journalism? How to distribute that information?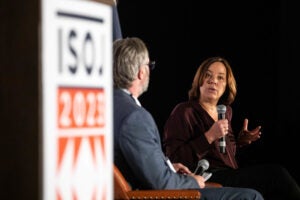 For Rodriguez, "journalism has to be at the heart of everything" and, for her, NBC is fortunate to have journalists around the world who provide that information firsthand.
As for how that quality journalistic work is distributed, NBC has taken on the task of getting information to where the audience is, regardless of the format. It can be live television, streaming, YouTube, or social media.
"What we found very quickly is that there is a massive audience out there and I think there's a misconception particularly when it comes to young people," Rodriguez said.
"It's said that young people aren't as interested in the news and that is simply not true. And we find, every step of the way, that if you are able to bring that premium high-level journalism to where people are consuming it, the demand is as high as ever. It's just really about being where the audience is," she said.
For example, there is an audience that does not consume NBC Nightly News directly from a TV station, which broadcasts at 6:30 p.m. ET every night. But, it does later on YouTube. Every day, they have more than 1 million views on that platform.
Paying for quality information
Another topic discussed during the conversation was how quality journalism is financed. While most print media are locking themselves behind paywalls, even television outlets like NBC follow the advertising-based model.
"I don't think we can live in a world where there are two tiers of people: Those who can afford quality information and journalism, and those who can't afford it and get junk information," Rodriguez said.
"So for us at NBC, for the most part, we have a fundamental value of providing high-quality free journalism. Although we do have some subscription-based products . . . it costs a lot of money to have correspondents spread around the globe, every day. That has to be funded from somewhere. And in this case, we do it with the ad-based model," she said.
Artificial intelligence potential
For Ryfe, it was important not to end the conversation without asking about the threats and benefits of artificial intelligence in journalism.
Rodriguez said her first thought when she opened ChatGPT for the first time was "someone is going to get fired" thanks to this tool. And not necessarily because it could replace the journalist's work, but because some young journalists can take it as an easy way out and end up committing plagiarism.
"Plagiarism is plagiarism is plagiarism. Whether you took it from The New York Times and passed it off on your own or you have ChatGPT write it from you and you present that as your work, that's all plagiarism," Rodriguez said.
In addition, Ryfe said that in academia they have already confronted students who handed in work done by ChatGPT.
Although Rodriguez accepts that ChatGPT is a great tool that will change the work of a large number of industries, she said that NBC is taking its arrival with caution.
"In terms of using ChatGPT as a source, I would say absolutely not," Rodriguez said. In addition, journalists are already going to be dealing with a barrage of fake news thanks to the intervention of images and videos done through artificial intelligence.
"We can't confuse a sophisticated language model with fact-checking. ChatGPT is not built to be fact-based. Fact-checking still has to be done the old fashioned way."