Augmented reality, wearable tech, and citizen journalism: ISOJ 2023 keynote to discuss the future of storytelling
Yusuf Omar has been a pioneer in mobile journalism, in the use of the latest technology to empower journalists and citizens to create stories and share them online. He co-founded SEEN, an international media company that champions storytelling and community-building through mobile journalism and the use of smartphones or wearable cameras.
Thousands of short-form videos have been produced and published under the SEEN banner, netting over 1 billion views in 2021.
Omar will deliver a keynote session at ISOJ 2023, which will be moderated by Robert Hernandez, professor of professional practice at University of Southern California.
"The future of storytelling on your face" will be held from 1:15 p.m. to 2 p.m. U.S. Central Time on Saturday, April 15. Sign up today to watch this keynote either online or in person from Austin, Texas!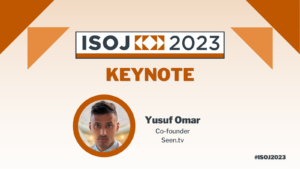 Omar noted that interactive features based on augmented reality – face filters and lenses commonly found on Facebook, Instagram, Snapchat and TikTok for example – "are how young people express themselves."
"We see it as a powerful storytelling tool to help citizens create professional-quality video content with their phones," he said. "That's what SEEN does, we use AR to turn citizens into journalists."
Omar said that attendees of the keynote can learn that "they can do everything with nothing," highlighting how content driven by engagement can create powerful stories and platforms.
"They can create thousands of videos which they can monetize and reach billions of views and millions of people without spending any money on fancy equipment," he said. "They can create digital media strategies not just for today, but with the infrastructure that will have them well-positioned for the next five years."
You can experience this keynote session and hear from more speakers at ISOJ 2023 by signing up today!
ISOJ, which began in 1999, brings together journalists, media executives, scholars and students to discuss the impact of technology on journalism today and in the future. It is an innovative conference that bridges the gap between the news industry and academia. 
For updates and additional information, you can visit ISOJ's website, Twitter, Facebook, and LinkedIn. If you have any questions, please contact us at isoj@austin.utexas.edu.