New fund launched to 'accelerate' independent digital media in Latin America with financing and advising
At a time when journalism is subject to various threats in Latin America, independent media require not only sufficient funding, but also encouragement and guidance from other organizations that have tried successful formulas.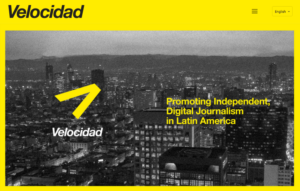 With that in mind, SembraMedia and the International Center for Journalists (ICFJ), with funding from Luminate, launched Velocidad, a media accelerator with the objective of promoting the sustainability and growth of high-quality digital native journalism projects, with editorial independence, that operate in Latin America.
Janine Warner and Mijal Iastrebner, co-founders of SembraMedia, an organization that promotes entrepreneurial journalism in Ibero-America, presented the initiative during the 12th Ibero-American Digital Journalism Colloquium, held on April 14 at the School of Journalism of the University of Texas at Austin, an event following the International Symposium of Online Journalism (ISOJ).
"With this accelerator we can encourage not only with investment, but also with companionship and consulting, and a contemporary and dynamic look at what is happening in the market, [with this] we can really give that boost to journalism that we know is being done in Latin America, which is not only high-quality journalism, but also necessary journalism," Iastrebner said.
The initiative –led by SembraMedia and ICFJ–includes a $1.5 million fund contributed by Luminate, the philanthropic organization of The Omidyar Group.
Support for the selected media will consist of financing and 1,600 hours of specialized consulting. The organizations will choose 75 digital media for the first round, of which 25 will advance to a second stage. All semifinalists will receive a recommendation report and full access to SembraMedia's online school, although only a maximum of 10 media will receive the funds.
"We are going to support this process by doing something quite personalized, so the amount of media we are choosing allows us to focus and really customize that acceleration," Iastrebner said. "And we are going to support this with something we do very well, which is to offer a large network of specialist journalists, both from our field as well as from outside our field, who can be complementary and create a more expanded universe for these media."
The media seeking out funds from Velocidad must be digital native media or media on social networks that operate in Spanish and Portuguese. They must aspire to have economic and editorial independence and to be sustained with more than one source of diversified income. In addition, they must have a minimum lifetime of six months in the industry, generate content that has social or civic impact in their communities and should not have any relationship with ecclesiastical or political entities.
The application period for Velocidad opened on April 13 during ISOJ, and will remain open until July 1. In September of this year, the 25 finalists will be chosen, and in January 2020 the first round of 10 winning media will be announced.
"Today we have more than 800 incredible examples of independent journalism in Latin America and it comes from three and a half years of study, mapping, searching, trying to understand what works, what does not work, what ideas we can share and how we can help these new voices to be better recognized," Werner said.