Hackathon participants build tools to 'measure and boost trust in news' during pre-ISOJ event
A multi-disciplinary team that developed a "nutrition facts" label for news articles won a joint ISOJ-Texas Tribune hackathon on April 11 and walked away with a prize of six Microsoft Surface Go tablets.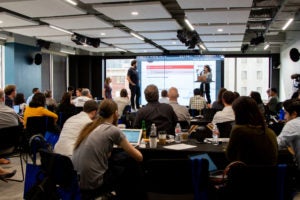 The label — visually similar to what you'd see on a food package — describes an article's "healthiness" based on its author, content, who shared it and more. The idea of a nutrition-facts label for news has been explored in the journalism community before, but four judges were impressed by the NutriNews team's deadline-driven engineering, snappy presentation and the beginnings of a browser extension to display the label.
The hackathon was held at the Texas Tribune office a day before the 20th International Symposium on Online Journalism, and several international conference attendees participated in the event. The event had about 70 participants and was possible thanks to support from Walmart Technology and Microsoft News.
Hackathon contestants were asked to build tools that "measure and boost trust in news." That theme was intentionally vague, allowing participants to display their creativity. The day began with project pitches. Then, cross-disciplinary teams of designers, developers, journalists and others worked until the early evening when their projects were scored for relevance, creativity, difficulty and sustainability.
Six teams presented at day's end, with two tying for second place. The runner-up projects were a browser extension highlighting the veracity of news-articles linked from tweets and an information box allowing reporters to share behind-the-scenes details of the news-gathering process.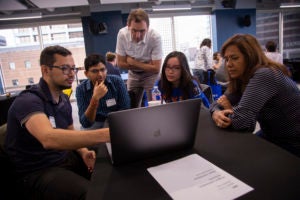 The winning NutriNews team members:
Mark Henricks
Pedro Burgos
Ravithej Chikkala
Ondrej Jurik
Yvonne Ong
Lyng-Hou Ramirez
The judges:
Jeri Condit, director of social good and digital content experiences, Microsoft News
DaLyah Jones, news reporter and assistant producer at KUT
Cristina Lewitton, principal data scientist at Walmart Tech
Robert Quigley, innovation director and senior lecturer at UT Austin School of Journalism