New Google tools will help journalists generate revenue, optimize their work and increase security
Aware of the challenges faced by journalism worldwide, Google works to develop tools that help journalists to promote and facilitate their work.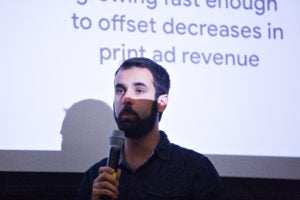 "It is a unique moment for journalism around the world and we know that Google is part of the answer to be able to rectify the problems that journalism faces today," said Marco Túlio Pires, Google News Lab lead, during the 11th Ibero-American Colloquium of Digital Journalism.
The Colloquium took place in the context of the 19th International Symposium on Online Journalism (ISOJ). Both the Colloquium and ISOJ were sponsored by Google.
Pires presented the new tools derived from the Google News Initiative, an alliance of the technological giant with media from around the world, which aims to support high quality journalism through technology and innovation.
On March 20, Google announced a financial commitment of 300 million dollars for the Google News Initiative, which will be dedicated to projects organized in three areas: elevating quality journalism, increasing digital revenues and the application of technology at the service of journalism, Pires said.
One of the innovations presented was Subscribe with Google, a tool with which users can subscribe to a newspaper or digital site with their own Google account. It is expected to reduce a user's resistance to pay for accessing a news portal, as it would be doing so with a bank account that has already been registered with Google.
"Any media organization can use this product to dramatically decrease the friction to subscribe to their site," Pires said. "We thought about how organizations could discover new users, convert them into subscribers, but not only convert them, but also retain them."
The Google News Initiative also plans to provide news organizations with up to 200,000 free accounts from G Suite, which is Google's suite of professional storage and support tools.
In the area of Google Analytics, Pires presented Consumer Insight, which includes the tool Propensity to Subscribe signal, which permits a user to analyze, through a machine learning method, the flow of users in a particular site, and thus identify which of them have greater propensity to subscribe. With this, the news media can carry out campaigns that directly aim to attract those users.
"The St. Louis Dispatch newspaper has started using Consumer Insights and new digital subscriptions tripled," Pires said. "We are using artificial intelligence to try to identify the propensity of each user to subscribe and to increasingly improve the way of offering the product."
Another result of the use of artificial intelligence is "Documenting Hate," a Google News Lab project with ProPublica and other organizations that use the Cloud Natural Language API tool to identify news related to hate crimes in Google News, and thereby create a database that can be used for journalistic investigations.
Likewise, Perspective API is a new tool that allows toxic comments to be identified in news sites, to facilitate the management of these forums, in which people commonly take advantage of anonymity to write offensive content.
Among Google's novel tools that are in development, the one that led to great applause among the attendees of the Colloquium was Google Cloud Voice API, an interview transcription tool for reporters, which promises to reduce audio transcription time up to 80 percent. It will also be available in Spanish and Portuguese, Pires said.
Media interested in data journalism can benefit from Flourish, since Google will provide this tool free of charge to journalists, so that it is easier for any newsroom, regardless of its financial capacity, to create high quality data visualizations.
In terms of digital security, a useful platform is Project Shield, which uses Google's security infrastructure to protect digital media from DDoS cyber attacks.
"It's a free project that uses Google's entire defense system to protect your site," Pires explained. "For someone to throw your site, they would have to knock Google down first, so [Project Shield] makes it very difficult."
Finally, Pires announced Outline, an application that will allow journalists to create their own VPN private networks (very private networks), which protect sites with powerful encryption and ensure the privacy of communications.